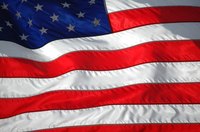 Unlike other branches of the military, the National Guard rotates in and out of active duty status and serves both state and local governments. While some Guard units may assist in overseas combat operations, others serve within their home state and only serve one weekend a month and one two-week period each year where they may help recovery efforts during natural disasters. Pay is commensurate with deployment and seniority.
Pay Grades
The National Guard, like all military branches, pays on a seniority scale based on rank. Most enlisted personnel start as an E-1 or an E-2 private and work up the ranks. The highest rank an enlisted guard member can achieve is the rank of Sergeant Major at a grade of E-9. Additional ranks include warrant officers and officers. Warrant officers start at a rank of WO-1 and may rise to a CW-5 chief warrant Officer. An O-1 second lieutenant is the lowest National Guard rank. The highest rank in the National Guard is that of general at a grade of O-10.
Earnings
The National Guard reports as of January 1, 2011, that monthly active duty pay for an E-1 private is $1,357 to $1,467 per month. An E-4 specialist or corporal earns between $1,915 and $2,326 per month while an E-9 sergeant major takes home between $4,635 and $7,196 each month. A low ranking warrant officer (WO-1) earns between $2,719 and $4,701 per month. A chief warrant officer at a pay grade of CW-5 earns between $6,821 and $8,926 monthly. Officers pay also increases with rank. An O-1 second lieutenant earns between $2,783 and $4,349 per month. An O-5 lieutenant colonel earns between $4,893 and $8,313 per month while an O-10 General's monthly pay is between $15,401 and $18,936 per month.
Additional Pay
Pay for annual training and two-day monthly drills follows the rank and pay grade scale for soldiers. As of January 2011, two day drill pay starts at $182 for an E-1 private, $618 for an E-9 sergeant major, $363 for a WO-1 warrant officer, $371 for an O-1 second lieutenant and, $2,053 for an O-10 general. Additional pay for annual training duty starts at $632 for an E-1 private, $2,161 for an E-9 sergeant major, $1,269 for a WO-1 warrant officer, $1,298 for an O-1 second lieutenant and $7,186 for an O-10 general.
Benefits
National Guard members can qualify for college tuition through the Montgomery G.I. Bill and gain additional funds through the Army National Guard Kicker. Benefits also include free airline flights in the continental U.S. and discount shopping privileges at military bases. The Veterans Administration also offers members home loans, life and health insurance at low cost. Opportunity for extra money also exists with special assignments or special skills positions such as Special Forces assignments, intelligence, aviation repair and transport operators. Medical personnel also qualify for additional bonus pay and student incentives.