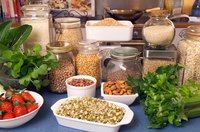 Foods rich in arginine and lysine are vital for overall health. Lysine, also called L-lysine is an amino acid that helps the body absorb calcium and form collagen, according to the University of Maryland Medical Center. Amino acids are nutrients that make up whole protein when combined. Arginine is also an amino acid and it's found in some of the same foods that also contain lysine. People with arginine deficiencies may suffer with hair loss, skin rashes and slow healing, according to the Mayo Clinic.
Lentils
Lentils are rich in both lysine, arginine, tryptophan, copper, vitamin B1, potassium, folate and a long list of other nutrients. One small lentil bean is packed with whole food nutrition that can help improve energy levels and keep you going throughout the day. The World's Healthiest Foods website says that eating lentils may help reduce a persons risk of coronary heart disease.

Spinach
Spinach is high in both lysine, arginine, tryptophan and other amino acids along with vitamins A, C and E. This food also contains high amounts of calcium, magnesium, iron and other minerals. The high nutrient content in spinach makes it an excellent daily dish for complete nutrition. Enjoy raw spinach salads with other favorite vegetables or make your own healthful green smoothie that includes spinach, berries and a banana.
Sunflower Seeds
Sunflower seeds are another food that contain several amino acids such as lysine and arginine. This food also contains other nutrients such as vitamin E, copper, selenium, vitamin B5, phosphorus and vitamin B1. Eat sunflower seeds raw, uncooked and without salt to get the most nutrition.
Spirulina
Spirulina is a bluish-green sea vegetable (algae) that is packed with nutrition. This food contains several amino acids such as lysine, valine, leucine and trace amounts of arginine. This food is also high in vitamins A, C and E along with calcium, magnesium, iron and potassium. This food is generally sold in powder form, but some health food stores buy whole spriulina algae.