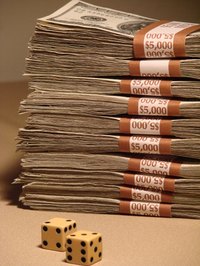 There are multiple ways of determining how much life insurance a person needs. There are general rules of thumb, there are company minimum policy requirements and there is what is called the needs analysis. Needs analysis takes into consideration what the surviving family would need to replace in the event of your premature death. It takes into consideration debts to be paid off, college education for any children left behind, funding of other miscellaneous goals for the survivors, replacing lost income and even possibly state and federal estate taxes that might be payable.
Survivor Income Needs
This amount will vary depending on whether the survivor is going to dip into principal annually or live off of interest earnings alone. The answer will depend on the lifestyle. This is also where many agents will just say "we recommend purchasing 10 times your annual salary." This doesn't take into consideration savings, income property and other assets that could be sold and invested for income. It also doesn't consider the earning power of the surviving spouse, or whether the surviving spouse wants to work. The Social Security survivor benefit is payable as long as there are minor children living at home. For a 50-year-old man making $75,000 per year, that benefit today would be $1,412 per month until the child reaches age 18.

College Education
This is an increasingly large need that many parents want to provide for their children in the event of their premature death. It is a moving target, however, that constantly needs to be reconsidered. It also depends on the type of education desired. Many parents want the best that money can buy, but when they realize that tuition at a private school can run more than $50,000 per year, four years of tuition alone adds up very quickly. (The most expensive school in 2011, Sarah Lawrence College, charges $57,556 per year.) Factor inflation into the equation, and the number gets even larger.

Mortgage and Other Debts
Paying off mortgage and other debts is often a need expressed when people purchase life insurance. As homes have gotten larger over the years, and mortgages, too, the amount of additional coverage needed to pay off a mortgage has grown. According to Federal Reserve studies, average home equity in 2011 is $76,400. The Federal Housing Finance Board report for the second quarter of 2010 placed the average mortgage loan size at just over $192,000. Throw in a credit card balance of $8,000 with a car loan of $20,000 and you have a debt load of $220,000.

Total Survivor Need
With all the information above, we can now total the coverage needed based on replacing the total income prior to death, pay off all debts and pre-fund college for twins Jack and Jill. Household income, after taxes, for the 50-year-old with two children, a mortgage and college education desired was about $4,500. Subtract $1,412 Social Security benefits ($4,500 - $1,412 = $3,088). Without invading principal, at 5 percent earnings per year, you need $741,000 ([$3,088 x 12]/.05). College tuition at Sarah Lawrence is $460,448 ($57,556 x 2 x 4). Total debts were $220,000. The grand total is $1,421,448 ($741,000 + $460,448 + $220,000). This process has a tendency to jolt families into taking a hard look at what they really want. For example, if the mortgage is paid off, maybe the income need can be reduced by the mortgage payment. Maybe the kids can go to a state university. Employer-provided insurance should also be factored in to how much needs to be purchased and comparing the cost of the two. Maybe increasing coverage through the group plan is less costly. The needs analysis approach is meant to ask these questions and help develop an overall plan in advance.