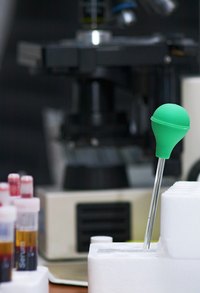 Infertility specialists, which are also known as reproductive endocrinologists or embryololgists in the health care industry, help couples who are having difficulty conceiving become pregnant. While initial treatments may focus on behavior modification to increase fertility, reproductive endocrinologists also perform in vitro fertilization to allow couples to conceive using artificial means.
Average Salary
Embryologists are health care professionals who are not certified as doctors, and work as staff at fertility clinics alongside endocrinologists. Embryologists earn average salaries that range from $43,484 to $74,389 as of January 2011, according to PaySale. Reported salaries for reproductive endocrinology are wide, with Simply Hired listing average salaries for doctors at $84,000 annually, and Salary List reporting the average advertised salary as $300,000 as of January 2011.
Salaries by Location
Reproductive endocrinologists' earnings vary significantly throughout the country. Those who practice in Orlando, Florida, receive the highest average annual salary of $128,434 as of January 2011, according to Salary Expert. Those in New York also earn some of the highest wages, $123,659, in areas surveyed by Salary Expert. Indianapolis and Houston feature the lowest salaries of those indexed by Salary Expert, coming in at $67,421 and $67,949, respectively. Half of the cities Salary Expert surveyed reported reproductive endocrinologists' average salaries between $86,037 and $105,916.
Training
Reproductive endocrinologists are physicians who receive standard medical training after finishing a four-year bachelor's degree. In medical school, many choose to focus on obstetrics and gynecology in preparation for their specialty. Upon completion of medical school, endocrinologists typically take a fellowship in reproductive endocrinology following their residency.
Comparison to OB/GYN Salaries
Reproductive endocrinologists aren't among the highest paid specialists in the health care industry. Many leave obstetrics and gynecology after exposure to reproductive endocrinology in medical school sparks their interest enough to overlook the salary differential. Physicians who specialize in obstetrics and gynecology earn an average annual salary of $204,470 as of May 2009, according to the Bureau of Labor Statistics.