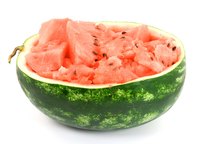 Citrulline is a non-essential amino acid that is involved in maintaining nitrogen balance and metabolic processes. It is naturally synthesized by the intestines, but small amounts are also be found in some foods, namely certain fruits belonging to the cucurbitaceae plant family.
Benefits of Citrulline
Citrulline plays an important role in detoxifying muscle and liver cells by facilitating the removal of ammonia. It also increases energy and boosts the immune system. Recently, citrulline has received attention in the media due to studies that indicate it may help individuals affected by erectile dysfunction caused by circulatory problems.
Watermelon
This delicious summer fruit is exceptionally high in citrulline, which is particularly prevalent in the watermelon rind. Although the rind is safe to eat, it is not as pleasant tasting as the pink meat of the fruit. Every 4 ounce serving of watermelon contains approximately 150 mg of citrulline.
Cucumber
Although cucumbers are commonly thought to be vegetables, they are scientifically classified as fruits because they have seeds and grow in the flower of the plant. Citrulline is present in cucumbers in very low levels.
Cantaloupe
Cantaloupe is a popular sweet melon packed with vitamins A and C, as well as very low levels of citrulline.