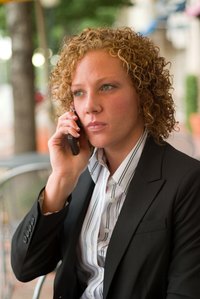 Insurance agents can work independently or for various insurance agencies. An insurance agent usually sells car, property and casualty insurance as well as annuities to consumers. Insurance agents typically get their appointments from referrals or various lead sources. Subsequently, insurance agents will call prospects and set up appointments to present their products. Most insurance sales agents receive a combination of salaries, commissions, bonuses and profit sharing.
Average Salary
The Bureau of Labor Statistics lists the median annual earnings for an insurance agent at $45,430. The middle 50 percent of all insurance agents earn between $33,070 and $68,730 per year. The top 10 percent of all insurance agents earn as much as $113,930 per year. Additionally, Payscale.com indicates that the average salary range for an insurance agent is $27,299 to $43,838. However, insurance agents earn between $32,121 and $76,370 annually with the inclusion of bonuses, commissions and profit sharing. Moreover, Greendoor.com lists salary information for insurance agents at 52 companies. Most of the insurance agents' salaries listed at Greendoor.com fall in the $28,000 to $53,000 range.
Years of Experience
Insurance agents tend to earn slightly more in salary as they gain experience. For example, an insurance agent with less than one year of experience earns an annual salary between $25,646 and $39,569. After five to nine years of experience, an insurance agent can expect to earn a salary of $28,145 to $42,802 per year. Insurance agents with 10 to 19 years of experience earn between $30,519 and $50,532 per year. After 20 or more years of experience, an insurance agent makes an annual salary of $32,776 to $65,365 per year.
Salary by Industry
Insurance agents' salaries can vary dramatically per industry. For example, the average annual salary range for insurance reps who sell consumer insurance is $26,186 to $41,384. Insurance agents who sell both insurance and financial services to consumers earn annual salaries of $27,235 to $42,733. Commercial insurance agents can expect to make salaries of $31,316 to $54,946 per year. Moreover, insurance agents who sell just life insurance earn salaries of between $25,732 and $48,247 per year. Insurance agents who sell just health insurance typically earn annual salaries of $29,803 to $59,337. And insurance agents who work for brokers earn salaries of $29,086 to $44,619 each year.
Salary by City
Insurance agents can earn more in certain cities than others. Following are the salary ranges for insurance agents in various U.S. cities, according to Payscale.com: Houston - $24,401 to $42,353; Dallas - $29,572 to $49,703; San Antonio - $27,986 to $41,391; Chicago - $30,004 to $53,579; Phoenix - $30,679 to $59,665; Tampa - $32,147 to $48,470; Atlanta - $25,856 to $43,158.