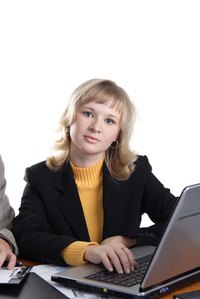 The economic downturn of the first decade of the 2000s has increased the unemployment rate, and thus, job competition. Job hunters need to communicate effectively and highlight as many strengths as possible during an interview to stand out. Interviews are opportunities for applicants to sell their skills to prospective employers. Saying the right things can help secure the job, but saying the wrong thing can sabotage the job opportunity. There are a few things to always say or discuss during an interview.
Company Knowledge
Prospective employers want employees who are knowledgeable about the company's foundation, achievements and future goals. This shows the interviewer that the applicant has legitimate interest in the position and business. Researching the company prior to the interview is key to displaying this enthusiasm. Company websites are filled with product, service and business information. To showcase this knowledge in your interview, ask questions about recent business developments, such as a new product or recent revenue growth reports if the company is public. Also, if you are interviewing with company founders, ask what motivated them to start the company. Mention that you have read the latest press releases and include an interesting fact from the press release. For example, you can say, "I was impressed to read in your press release last week that quarterly earnings reached a record high last quarter. Is that growth attributed to the recent acquisition of the firm you announced last year?"
Positive Characteristics
Work environments are always changing, and prospective employers are interested in finding only those candidates who can adapt at a moment's notice and be open to change. Stating this characteristic is a big plus for employers; it reflects that the ability to multitask is present and the prospective employee has what it takes to get the job done, regardless of additional work hours and job duties. Employers are also interested in prospective employees who are not afraid to say and show they have a "can-do" attitude and are team players. Refrain from speaking negatively of past employers and co-workers, as this will only blemish all other positive characteristics.
Experience and Goals
Highlight job experiences and duties that directly relate to the new job. Point out specifics of the last position that will come in handy in the new position. For example, when interviewing for a management position, highlight past supervision duties, training and accomplishments. Explain any motivational techniques and do not be afraid to show off training classes or seminars that you have attended. Perhaps one of the most crucial traits employers are looking for in prospective employees is the eagerness to progress in the field. This turns the employee into an asset instead of a liability. Motivated individuals are seen as productive individuals who employers can count on.
Things Not to Say
Even the smallest slip of the tongue can turn off prospective employers. Some things to never say during an interview include comments having to do with appearance, unprofessional street talk such as "dude" or "bro," and career lows. Nothing will turn off an employer more than an applicant openly stating their poor knowledge of the company's foundation or what it even does. Employers are not interested in personal facts, such as "I'm going through a messy divorce." Most importantly, be on time for the interview, as no one wants to sit around and wait just to hear a lame excuse as to why someone is late.