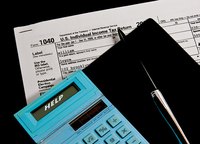 Sales tax is collected in order to fund various local and federal projects and departments. It can vary from state to state and even from city to city within a state. Sales tax in Orange County, for example, is 8.75 percent, and it's 9.75 percent in Los Angeles. Sales tax is collected when you purchase an item or service, but in some cases, such as with certain online sales, you will not be charged sales tax if you're buying something from a different state.
Funding
It's important to consider that when you buy something from another state and don't pay sales tax, you might find some local (and even some federal) services suffering. After all, sales tax is used in helping to keep local roads repaired and even to offer assistance to small businesses in tough economic times. When you decide to avoid paying sales tax when you buy from a state that doesn't charge sales tax, the tax money you save will not be helping fund local industries and services.
Automobiles
One area where not paying sales tax can prove to be quite economical is when it comes to buying a car. If you buy a new car for $25,000 in Texas, for example, you'll wind up paying over $2,000 in sales tax. This is one reason why you might consider buying a car from a state that doesn't charge sales tax — or that charges a lower sales tax than the state you live in. In addition, some states, such as Nevada, no longer charge sales tax on used cars sold after 2006. The logic behind this is that the tax on the item was collected during the first sale and subsequent sales shouldn't be taxed.
Online
In many cases, you won't be charged sales tax from another state when you buy online, unless the state specifically charges online sales tax. In most cases, if the online store also has a physical brick-and-mortar setup in a state, it has to collect sales tax for its online sales. However, if a business doesn't actually have a physical location — including a warehouse site — it doesn't have to charge sales tax. This causes lawmakers to consistently attempt to pass laws forcing online businesses to collect sales tax.
Virtual
Virtual goods are still a gray area when it comes to paying sales tax. If you buy an item that only exists in a virtual world — such as Second Life, for example — you will sometimes actually pay for that item with real-world money. In addition, there are online games where you can purchase a weapon or clothing item using real money. Lawmakers have been trying to decide how to go about taxing these virtual items since 2007.