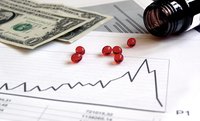 Health economists apply economic knowledge and research skills to help resolve problems related to the allocation of resources in the areas of health and medical care. The size of the health care industry and the rising costs of medical care have made health economics a specialty within the larger discipline of economics. Health economists work for colleges and universities, government agencies, health care systems, insurance and pharmaceutical companies and consulting firms. Health economist salaries vary by education, experience and employer, but in general, salaries reflect those earned by other economists.
Average Salary
The U.S. Bureau of Labor Statistics does not treat health economist as a separate occupation, but considers it part of the broader profession of economist. In 2009, the U.S. Bureau of Labor Statistics reported that economists earned an average annual salary of $96,320. Because health economists, like other economists, work in a variety of employment settings, actual salaries may be higher or lower than this average, depending on industry and employer. BLS data indicated that the federal government, a major employer of economists, including those specializing in health issues, paid an average of $106,170 a year. Economists in scientific and technical consulting firms earned even more, with their salaries averaging $123,710 a year.
Salary Ranges
The BLS reported that annual salaries for economists, including those specializing in health care issues, range from a low of $44,720 for the lowest-paid 10 percent, to more than $153,000 a year for the highest-paid. The median 50 percent an annual salary of nearly $87,000, BLS figures show.
Health Economist Jobs
The website SalaryList.com reported that health economists earn an average salary of about $77,000 a year. A listing of health economist jobs included positions at research institutes, health insurance companies, health care providers, consulting firms and pharmaceutical companies. Salaries for these jobs ranged from a low of $46,999 a year to a high of $120,000 a year. Pharmaceutical firms appeared to offer the highest salaries for health economists, based on information from SalaryList.
Potential
The Australia-based New South Wales Consortium for Training in Economists in Health reported that health economics is a rapidly growing field, thanks in part to efforts by governments to reform their health care systems and the importance of economic evaluation in health care policy and programs. The consortium reported that job opportunities for health economists exist in government, pharmaceutical and biotechnology industries, consulting firms and nongovernmental organizations such as the World Health Organization and the World Bank. The consortium reported that job opportunities exist for men and women with undergraduate as well as graduate-level training in health economics. However, the best opportunities and the highest salaries exist for economists with master's or doctoral degrees.