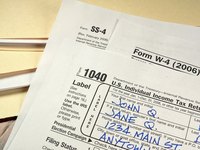 The Internal Revenue Service, a bureau of the United States Department of Treasury, processes tax returns and collects income tax from individuals, businesses, and organizations. The IRS imposes a tax on most types of income on a pay-as-you-go basis. Failure to properly withhold or pay taxes, and failure to correctly report income, may result in an IRS assessment of penalties and interest on any tax due.
Taxable and Nontaxable Income
Taxable income includes employee compensation, interest, dividends, capital gains, rents and royalties, and alimony. The IRS deems some income nontaxable, including child support payments, principal residence mortgage foreclosure, a portion of the gain on the sale of a principal residence, and a varying percentage of Social Security income.
Reportable Income
In most cases, taxpayers must file a tax return unless their gross income equals less than the minimum filing amount -- the total of personal exemptions and the standard deduction. For 2010, single taxpayers with gross income of more than $9,350, or married filing jointly taxpayers with gross income of more than $18,700, must report their income on a federal tax return. Additionally, taxpayers who sold their home, received self-employment income of more than $400, owe uncollected Social Security or Medicare tax, or expect a refund must file a tax return.
Gambling Winnings
The IRS considers gambling winnings taxable income that must be reported, unless the filer's total income including the gambling winnings is less than the minimum filing amount. The fair market value of prizes, such as products or travel, also qualifies as taxable gambling income. A minimum for reportable gambling income does not exist; even $1 in gambling winnings requires reporting.
Deducting Gambling Expenses
Losses from gambling activity, including expenses such as the purchase of raffle or lottery tickets, qualify as a miscellaneous deduction on Schedule A. The IRS limits deductible gambling losses to the amount of gambling winnings. Taxpayers must keep a detailed diary or log of gambling losses and winnings, along with other documentation, to prove their gambling activity.