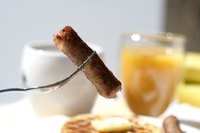 Buggs Island Lake, also known as the John. H Kerr Reservoir, is the largest lake in Virginia. It features more than 50,000 acres of water with more than 800 miles of shorelines. Visitors are welcome to take out a boat on the lake and discover all of its quiet coves, or try out water sports such as skiing or fishing. Those traveling to the lake can stay in one of the hotels in Clarksville or accommodations in towns nearby.
Best Western On The Lake
This Best Western is minutes away from Buggs Island Lake, and many of its rooms feature views of the lake. Other attractions are within walking distance, too, including downtown Clarksville, where visitors can enjoy the shopping, dining and art galleries the town has to offer. At the hotel, guests can take a dip in an outdoor swimming pool, and wake up to a free deluxe continental breakfast each morning.
Fairfield Inn & Suites, South Boston
This Fairfield Inn and Suites is 20 miles west of Clarksville and the heart of Buggs Island Lake in South Boston, Virginia. Attractions near the hotel include the Bob Cage Sculpture Farm, Halifax County Fairgrounds and the Halifax County Museum. Guests can use the hotel's free high-speed Internet connection, as well as enjoy a free breakfast each morning, which includes Jimmy Dean Breakfast sandwiches, Bold Beginnings coffee, fresh fruit and cereal.
Holiday Inn Express, South Boston
This hotel is about 20 miles northwest of Clarksville and Buggs Island Lake in South Boston. The Holiday Inn Express is in the heart of South Boston, and it's near many fishing locations, vineyards, racetracks and tobacco-steeped historical sites. The hotel features an outdoor pool and lush outdoor garden, as well as a fitness center. Rooms include amenities such as high-speed Internet, a desk, dual phone lines, flat-screen TVs and triple-sheeted beds.
Super 8, South Boston
This Super 8 is 20 miles northwest of Clarksville and Buggs Island Lake in South Boston. The hotel is near many attractions, including the South Boston Speedway, Museum of Fine Arts and History, Stantoa River State Park and Martinsville Speedway. Restaurants are also close by, many within walking distance. Guests can take advantage of amenities such as high-speed Internet, cable and HBO, and the complimentary Super Start Breakfast served every morning.