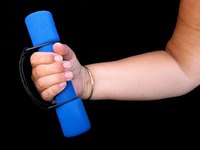 Health teachers instruct people about health-related topics like nutrition, exercise and avoiding illnesses. The minimum requirement to become a health teacher is a bachelor's degree. Employers in public health or with more advanced positions prefer those with a master's degree. Voluntary certification from the National Commission of Health Education Credentialing can increase opportunities and salaries.
Work
Health teachers usually work a standard 40-hour week, but may work longer hours when meetings or health events are scheduled on evenings and weekends. They may have comfortable offices in corporate settings or lecture inside classrooms at colleges and universities. Their median salary is $44,340 yearly, with a range of $26,120 to $79,290, according to May 2009 data from the Bureau of Labor Statistics. This breaks down to $21.32 hourly, with a range of $12.56 to $38.12.
Employers
General medical and surgical hospitals employ the most health teachers, with more than 15 percent of the available 63,320 positions. Educators here may teach patients in-house or represent the hospital in seminars and lectures out in the community. They receive $27.19 per hour or $56,560 per year. Specialty hospitals, not including psychiatric or substance abuse, are the highest paying at $28.47 per hour or $59,210 per year but only offer 600 total jobs.
Location
Maryland pays the most to its 1,700 health teachers, with wages at $38.96 per hour or $81,040 per year. The city with the same distinction is Bethesda, Maryland, with salaries at $45.62 per hour or $94,880 per year. There are 1,060 health teaching positions in Bethesda. Second on this list for compensation is Salisbury, Maryland. The median wage is $41.50 per hour or $86,340. Opportunities here are even lower with only 40 positions.
Future
The Bureau of Labor Statistics sees jobs for health teachers growing at 18 percent from 2008 to 2018, which is faster than average for all positions. The rising cost of health care fuels this demand. Employers, insurance companies and governments seek to reduce that cost by educating the public on how healthy lifestyles can help them avoid expensive medical treatments. Those who have gone through internships or volunteer jobs will find the best opportunities.