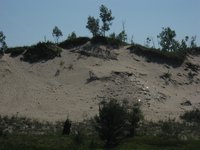 Michigan's sand dunes are the largest collection of freshwater dunes in the world. Covering almost 250,000 acres, the dunes provide a habitat for birds and animals, and recreation for thousands of visitors annually. Dune ride tours operate during the summer tourist season, typically from May through October. Guides offer group tours in modified vehicles. You can also take a drive-yourself adventure.
Parrot's Landing
Parrot's Landing operates guided Jeep Wrangler tours of the Silver Lake Sand Dunes in the town of Mears. The back seat is large enough for two adults or three children. Car safety seats are available on request for small children. Jeeps have two-way radios for communication with the tour guide. Drivers must be at least 16 years old, have a driver's license and renters must be at least 18. The company provides instruction before starting the tour. Daytime tours, scheduled throughout the day, last for one hour. Sunset tours begin at 7:30, giving drivers enough time to ride the dunes before the sun starts to set.
Saugatuck Dune Rides
The town of Saugatuck's sandy beaches are among the top 25 in the world, according to Conde Nast Traveler. Rides on Saugatuck Dune Ride's schooners last between 35 and 40 minutes. The vehicles, modified trucks with an open seating area in the back for passengers, seat 18. Guides make three stops. Two are for informational purposes; the third is a photo op. The company owns the dunes where the rides operate so other vehicles don't interfere with tours. In addition to maintaining the trails, they have erected humorous road signs along way and drivers provide witty commentary as the tour progresses.
Mac Wood's Dune Rides
Mac Wood's Dune Rides, also located in Mears, operate 7-mile long dune rides that last about 40 minutes. The operators call their modified trucks with aircraft tires dune scooters. Each carries 20 people and kids under 2 ride for free. Mac Wood's has exclusive use of the dunes where the tours operate, so no other vehicles disturb the trip. Tour drivers make one stop at the edge of Lake Michigan for picture taking. A display of fulgurites at the gift shop, glass tubes created when lightning hits the beach, includes an uncommon 9-foot long specimen.
Razor J's Adventure Tours
Razor J's, operating on the Silver Lake Sand Dunes, provides guided tours in Polaris Ranger RZR sport utility terrain vehicles, or UTVs. The vehicles have wide wheelbases and heavy-duty shock absorbers. After a lesson on driving the vehicle, drivers and their passengers follow a guide through the dunes and along groomed trails. Razor J's offers eight daily hour-long tours seven days a week during the summer tourist season.