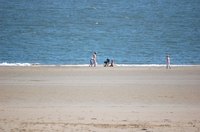 Pennsylvania and ocean beaches might not seem to go together, but the Keystone State has had a long and happy association with the New Jersey Shore and its beaches. Throughout much of the last century special trains traveled from Philadelphia to the Jersey Shore, mainly to the Atlantic City area. Today, the Atlantic City Expressway and Highways 55 and 49 link Pennsylvania residents to south Jersey Shore beaches. Other beach going opportunities are in Maryland and Delaware.
Atlantic City Area
Atlantic City, New Jersey, is the traditional beach destination for people from Philadelphia, Pennsylvania. The coast is easily accessible and has miles of beaches surrounding its famous Boardwalk. Brigantine, north of the city, offers six miles of beaches that are much less crowded. Ocean City and Margate, to the south, has both Atlantic and inlet beaches. Lifeguards are on hand at many beaches and some areas allow surfing. Fishing is permitted on all non-bathing beaches, either from the beach or from the many piers and jetties along the shore.
Southern Beaches and Cape May
South of Atlantic City are miles and miles of beach, with relatively few towns along the way. Wildwood and Cape May, at the extreme southern tip of New Jersey, are the best-known communities, but Sea Isle City and Avalon are also nearby. Cape May is famous for its bird-watching. Beach-side motels and cabins are scattered throughout the area. This region is readily accessible from Pennsylvania, mainly from Highways 55 and 49.
North Jersey Beaches
The area north of Atlantic City offers miles of beaches reaching up to Asbury Park and Long Branch. This includes such places as Island Beach State Park, Long Beach Island and communities like Spring Lake and Belmar. The latter two locales have many luxurious homes. Asbury Park and nearby communities offer a noted beach and recreational area with many entertainment options beyond sand and sun.
Maryland and Delaware Options
Maryland and Delaware also offer ocean beach options for Pennsylvanians. Delaware beaches stretch from the mouth of Delaware Bay near Dover and south to the famous barrier islands like Chincoteague. The barrier islands south of Ocean City are government protected areas. They have no highways, communities or tourist facilities. Both Delaware and Maryland have beaches along Chesapeake Bay. The region north of Washington D.C. is densely populated but the southern extremes are less crowded.