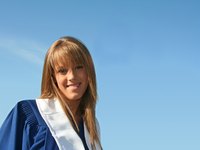 Graduating from either undergraduate or graduate school is a milestone in someone's life. To celebrate such an event a gift is in order from close family members or friends. This is especially true if you are attending a graduation party. However, if your finances are tight, purchase a memorable gift that is also easy on the wallet.
Gift Cards
Gift cards allow the graduate to purchase what she wants from the store, while at the same time letting you pick the dollar amount. Think of retail or food and beverage stores where the graduate likes to shop. Ideas include clothing stores, coffee shops, area restaurants and movie theaters. You can also purchase gift cards to online music and video stores. A couple of ways around the cost of gift cards is to "re-gift" a gift card you received, or to purchase the gift card from an online auction site, which will allow you to win the card for less than face value. In either case, check that there are no rules about non-usage fees, which deduct from the value.
Kitchen Gadgets
After graduation, the graduate may be moving to his own place. Even if he was sharing a room while at school, he may not have all of the items he needs to outfit his kitchen. Purchase cheap kitchen items such as tongs, spatulas, ladles, knives, place mats, a set of four glasses, a serving plate, serving bowl or a small frying or sauce pan. Make a gift bag out of a few of these items. Pack the other items in the sauce pan and place a bow on top.
Salon Treatment
After the graduate has worked so hard, it is time for her to relax and pamper herself. Purchase an inexpensive salon treatment such as a manicure, pedicure or facial waxing. If your definition of cheap has a slightly higher threshold, purchase a 30- or 60-minute massage. Many salons offer specials for first-time customers where a full-hour massage is less than $50.
Photo Album
Assembling a photo book makes a cheap graduation gift. Go through the photos you have of you and your friend at various collegiate events. They can include photos from class, a sporting event or just hanging around the dorm. Go to an online photograph printer that also sells photo memory books. After uploading your pictures, you will be able to arrange the pictures in a pre-set template. You can also add captions to the photos explaining who is in the photo and where and when it was taken.