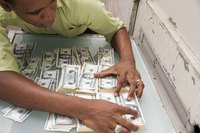 The IRS doesn't forgive debts easily, but it does have its limits. Once you file a return, the IRS usually has three years to audit you, or six if you under-report your income by 25 percent or more. If you don't file for a particular year or you file a fraudulent return, the IRS always has the option to audit you, then demand any back taxes due.
10 Years to Collect
Before the IRS starts trying to collect on back debt, it has to assess the debt -- make a legal record that you owe the money. After that, the IRS has 10 years to collect from you, then it has to call it quits. If you offer to pay part of the debt, the IRS can suspend the 10-year countdown while it considers your proposal. There are other exceptions, such as if you agree to give the IRS an extension.
Effects of Bankruptcy
Bankruptcy can discharge -- wipe out -- your income-tax debts if enough time has passed. To get a discharge it must be at least three years since the return was due and two years since you filed the return. If the IRS is hounding you about last year's unpaid taxes, bankruptcy won't help. It must also be at least 240 days since the IRS assessed the debt. Bankruptcy never wipes out debts due to tax fraud.