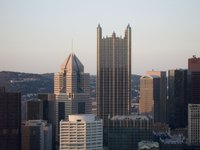 Pittsburgh, Pennsylvania is the second-largest city in Pennsylvania. Traditionally known for its bustling steel industry, Pittsburgh is also the home to large financial institutions, including PNC Financial Services and BNY Mellon. Heinz Field, home of the National Football League's Pittsburgh Steelers and the University of Pittsburgh football team, is in downtown Pittsburgh. If you are staying in Pittsburgh, there are a number of hotels that provide accommodations with a jacuzzi.
Days Inn
The Days Inn Pittsburgh is located minutes from the Consol Energy Center and PNC Park, and offers rooms with a jacuzzi. The Days Inn Pittsburgh also offers complimentary high-speed wireless and wired Internet access, free continental breakfast, a workout room and a coin-operated laundry. Rooms at the Days Inn Pittsburgh come with refrigerators, color televisions and work space. A meeting room and banquet room is also available on-site.
Holiday Inn Express
The Holiday Inn Express Pittsburgh is located on the south side of Pittsburgh, near downtown Pittsburgh and the David Lawrence Convention Center. The Holiday Inn Express Pittsburgh offers 15 jacuzzi suites. Rooms at the Holiday Inn Express Pittsburgh offer cable television with in-room movies, ample workspace and a kitchenette. The Holiday Inn Express Pittsburgh also offers complimentary high-speed wireless Internet access, a free breakfast buffet and a complimentary shuttle to the Rivers Casino.
Super 8 Motel
The Super 8 Motel Pittsburgh/Monroeville is located on the outskirts of Pittsburgh near the town of Monroeville. A large public park and wave pool is located within minutes of the Super 8, and access to downtown Pittsburgh is available via Interstate 76. The Super 8 offers jacuzzi suites and non-smoking rooms, as well as complimentary continental breakfast, high-speed Internet access and a 24-hour front desk. Rooms at the Super 8 Motel come with cable television and free local phone calls. Pets are permitted to stay.
Comfort Inn and Suites
The Comfort Inn and Suites Pittsburgh is located in the neighborhood of Dormont, and provides convenient access to downtown Pittsburgh via Interstate 376. The Comfort Inn offers suites with a jacuzzi, as well as efficiency suites for extended stays. Rooms also come with complimentary Internet access and cable television. The Comfort Inn provides a complimentary continental breakfast, outdoor pool, tanning deck, courtyard and a fitness center. The Comfort Inn and Suites Pittsburgh is also available for business functions and weddings.