Tropical getaways are plentiful south of the United States, and not all of them require a passport when you land. Some of the island getaways that do not require a passport to visit include U.S. territories and parts of the United States themselves. Hawaii and the Florida Keys are both islands that offer tropical weather and beaches and neither require international travel fees or passports because they are part of the United States. The U.S. Virgin Islands and Puerto Rico are U.S. territories. While they are not states, they are a part of the country. U.S. citizens do not need passports to enter or exit the countries by land or sea.
U.S. Virgin Islands
The U.S. Virgin Islands of St. John, St. Thomas and St. Croix are located in the Caribbean, a few hours south of Florida and do not require a passport for U.S. citizens to enter the country. Each island has accommodations that range from inexpensive motels to luxury resorts. English is spoken on all three islands and your currency is usable without having to convert at the airport. Every island is situated on white sand beaches running into the turquoise waters of the Caribbean. The weather is tropical year round and entertainment is available in each island, including water sports, spas, golf and oceanfront dining. St. Thomas is home to Magens Bay, a public beach that is shaped like a heart. The public beach features a snack bar and beach rentals such as chairs and floats to use in the calm waters. Every year, the Virgin Islands celebrates Carnival, a month-long extravaganza featuring pageants, festivals, parades and boat racing. Carnival is the second largest celebration in the Caribbean and each of the three islands holds theirs at a different time of year: St. Thomas during the month of April, St. Croix during the month of December and St. John during July.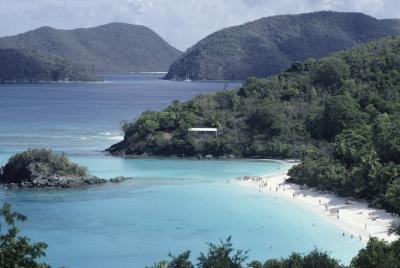 Hawaiian Islands
The Hawaiian Islands are not very close to the states; however they offer a tropical vacation destination most people dream of visiting. The travel time to Hawaii is five hours from California, which is the equivalent of flying from the East Coast to the West Coast, so unless you already reside on the West Coast the travel time to Hawaii becomes significant. Several islands, including Oahu, Kauai, and Maui feature the vacation amenities Hawaii is famous for -- beaches, warm weather, volcanoes, tropical landscaping and luxury resorts. Each island in Hawaii offers something different for visitors; Oahu is the busiest of the islands with nightlife, shopping and restaurants in downtown Waikiki, adjacent to the beach and the site of Pearl Harbor. The Banzai Pipeline is located on the North Shore of Oahu, home of some of the world's largest waves and biggest surfing competitions. Visit Maui and you'll see some of the thousands of migratory humpback whales in the ocean waters.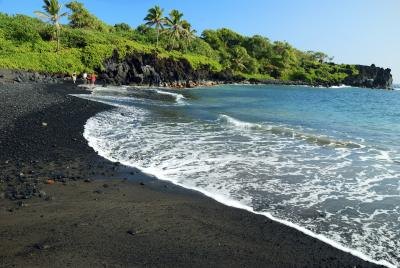 Florida Keys
The Florida Keys is a grouping of islands at the very southern tip of Florida. Key West is the southernmost point in the United States and is only a three-hour drive from Miami. The Keys offer tourists a vacation destination still in the states – no passport required – with activities that include swimming, snorkeling, boating, parasailing, fishing and dining. Duval Street in Key West offers nightlife such as dining, bars, restaurants, dancing, street entertainment and shopping. Luxury resorts, campsites, motels, bed and breakfasts and oceanfront rental homes are on many islands of the Keys.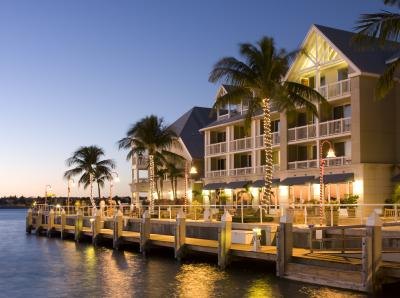 Puerto Rico
Puerto Rico is a U.S. territory a few hours southeast of Florida by plane. Your currency is accepted everywhere and your passport is not required. Luxury hotels, bed and breakfasts and economy motels are located everywhere in Puerto Rico, making it the kind of place any budget can enjoy. Spas, bars, restaurants and plenty of ocean views encompass your Puerto Rican getaway, and with 365 days of tropical weather the biggest decision you'll make on your vacation is whether or not to dine indoors or out. Puerto Rico has the largest shopping mall in the Caribbean, Plaza Las Americas, in San Juan. If shopping isn't your idea of fun but golf is, you will find 23 golf courses in Puerto Rico, with 17 of those courses designed by world-famous golfers such as Jack Nicklaus and Greg Norman.