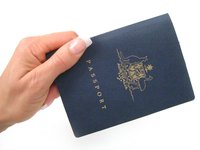 Passports are books issued by the United States Department of State to U.S. citizens that submit an application and all of the necessary paperwork and documentation. If approved, your U.S. passport will benefit you in a variety of ways, despite the fact that it is the most expensive form of international travel documentation available. Everyone traveling internationally is required to have a U.S. Passport, including children and infants.
International Travel
Passports are used as a form of identification and citizenship when traveling abroad. Your U.S. passport allows entry into any foreign country and reentry into the United States. Possessing a U.S. passport means you can make last minute vacation plans without worrying about obtaining the correct documentation prior to departure – passports take up to eight weeks to process and arrive, and expedited passports take up to three weeks. If you have family or friends living abroad and there is an emergency you have the freedom to travel immediately to their assistance without the inability of doing anything due to a lack of appropriate travel documentation.
Air Travel
Though passport books are not required for all international travel from the U.S. – U.S. citizens can apply for a passport card, enhanced driver's license or trusted traveler program card to gain entry into Mexico, Canada, Bermuda or the Caribbean Islands – it is the only form of documentation acceptable for air travel to any of these countries. Without a passport book you can only enter these countries by land or sea. Say you decide to go on a cruise to the Caribbean and opt to apply for a passport card because it is significantly less expensive than a passport book and you receive an emergency phone call from a family member at home that you need to return immediately. Without a passport book you have to wait until your cruise returns to port because you cannot fly out of your Caribbean location without a passport book.
Photo Identification
Passports are an excellent form of photo identification. In the instance you need to provide photo identification but you do not have your driver's license or a state identification card, your passport is an acceptable substitute. You can use your passport when applying for a marriage license or in place of your driver's license when you open a bank account or apply for a loan.
Cost
The cost of a U.S. passport is initially more expensive than any other form of travel documentation. However, applying for a passport card to take your cruise vacation this summer might save you a few dollars right now, you will pay more in the long run if you decide to take an international trip by air. In that case you'll have to apply for a passport book, which means you'll have paid the fee for a book and a card when you could have just purchased the book from the start.