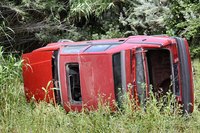 A good insurance agent can help walk policyholders through the claims process but collect important information at the scene of an accident prior to filing the claim. Keep a quick checklist in the glove compartment of the car to help solidify the steps you need to take at the scene of an incident.
Information to Collect
Exchange insurance information immediately following even a minor accident. Collect the driver's name, address, phone number, driver's license information in addition to requesting a copy of the insurance card for examination. Copy down the policy number, the 800 number listed for the other parties' carrier and the make and model of the other vehicle involved in the accident.
Obtain a police report for the accident, even if a law officer is not available at the scene. Go down to the police station to report minor accidents, which often will not require the need for an officer at the scene. Police officers are often not dispatched for minor accidents, such as small parking lot fender bender.
Reporting the Accident
Call both insurance carriers to report the accident, even if not at-fault for the collision. Pass on any information collected at the scene along with a police report number. Photos snapped on a cell phone can sometimes help underwriters settle the claim more quickly.
Choosing a Repair Center
Opt for an approved collision repair center offered by the insurance carrier if desiring to expedite the repairs. Choose a reputable repair center or trusted mechanic of choice, if desired, as this is the right of any claimant. Ensure you have the deductible amount in hand for an at-fault car accident prior to picking up the vehicle from the repair shop.
Accepting the Offer
Research car valuations for a totaled vehicle prior to accepting an insurance payout. Study valuations on websites such as Kelly Blue Book, Edmunds or the National Automobile Dealer's Association to best contest a claim. Keep detailed records of medical payments and doctor's reports, especially if requiring continued medical treatments following an accident. Avoid settling too quickly with the insurance carrier if the prognosis for wellness is not easily foreseeable. Appeal an unfair settlement by including excerpts from the policy agreement the insurance carrier has violated, car valuations, medical receipts and physician reports. Choose certified mail when sending any appeal paperwork to the carrier and keep a copy for home records.