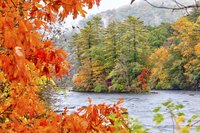 Lake Candlewood is Connecticut's largest lake. The man-made body of water spans 11 miles in length and offers 65 miles of shoreline. Lake Candlewood provides classic opportunities for fun on the water including boating, fishing and diving. The towns of Sherman, New Milford, Brookfield, Danbury and New Fairfield surround the lake and provide a variety of lodging options.
A Home Away From Home
To enjoy homelike lodging at Lake Candlewood, contact a local real estate broker, such as The Sivba Group in Danbury, or rental management agencies, such as Candlewood Lake Living in Sherman. They can connect you to private properties offering daily, weekly, monthly or seasonal rental options. Lakeside properties range from a rustic cabin accessed only by boat and without indoor toilets to an upscale 7,000-square-foot secluded retreat with five and a half baths set among 25 acres. The wide selection of private rentals provides vacation home lodging to match all budgets and party size.
Comfy Country Inns
The sprawling Newbury Inn at Brookfield offers a country setting less than a mile from Lake Candlewood. Mostly first floor rooms provide free Wi-Fi, a complimentary continental breakfast, work desk and TV. Some rooms have efficiency kitchens and extended stay rates. Deluxe rooms offer patios for enjoying the view. Located a five-minute drive from Lake Candlewood, Rocky River Inn at New Milford sits near the banks of the Housatonic River. While the exterior is unassuming, its rooms provide comfort for a range of guest preferences. There are standard, deluxe and luxury rooms and one- and two-bedroom suites. All offer free Wi-Fi, TV, a microwave and a refrigerator. Access to a fitness center is available for a fee. There are pet-friendly rooms, as well as plenty of space for dogs to romp.

Chain Hotel Options
Several chain hotels are available in the Candlewood Lake area. The budget-friendly Days Inn at Bethel is 11 miles from the lake shore. Its basic rooms offer a free continental breakfast and free Wi-Fi; microwaves and refrigerators are available. Kids 17 and younger stay free with an adult and pets are welcome. The upscale high-rise Crowne Plaza at Danbury provides a modern and chic lodging environment just a 25-minute drive from Lake Candlewood. Rooms offer plush bedding, free Wi-Fi, large desks, TV and spa-type showers. Refrigerators and microwaves are available for rent. Guests of the executive rooms receive free breakfast on weekdays. Amenities include an indoor pool, fitness facility and cafe and bar. The hotel also offers meeting and conference space encompassing 26,000 square feet.
Farm-Style Bed and Breakfast
Sitting atop Candlewood Mountain, about 12 miles from Lake Candlewood, Candlelight Farms Inn bed-and-breakfast provides a slice of country life. Spanning 600 acres, its range of amenities include a pond and gardens, heliport and full equestrian facility providing lessons and boarding. The historic property dates back to 1843. Its five rooms offer air conditioning, TV, Wi-Fi and private baths. Guests have use of a parlor filled with antiques, a kitchen, tap room and breakfast room decorated with original art. A true country breakfast is served consisting of farm-grown vegetables and eggs fresh from the hen house.