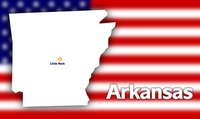 Arkansas' topography varies from northwest to southeast, providing an interesting exploration throughout the land. Located in the south central region of the United States, Arkansas abounds with must-see landforms. From rivers and lakes to mountains and caves, you'll delight in Arkansas' natural wonder.
Rivers
Rivers, large natural streams of water that generally feed into the sea, cover approximately 9,700 miles of Arkansas. In Arkansas, some of the main rivers include the the Mississippi, the Arkansas and the Buffalo National River. Fishing, canoeing, and kayaking are common activities within these larger rivers. Smaller rivers like the Little Missouri and the Little Red are suitable for a nice swim. For those who simply like to gaze in awe, Arkansas' rivers, with surrounding greenery, are the perfect place.
Mountains
With over half of Arkansas covered by mountains, there's no way not to be moved by their beauty. In the north, the Ozarks leap to life, surrounded by streams and colorful foliage. At Mountain View of the Ozarks, you can dance, make crafts, and listen to folklore passed down from early settlers. In the south, the Quachitas rise high and challenge you to explore their rugged trails while comfortable resorts invite you to relax and take in the breathtaking scenery. Together, the Ozarks and the Quachitas are often referred to as the U.S. Interior Highlands.
Caves
The caves in Arkansas, situated beneath the mountains, rivers and lakes, are some of Arkansas' hidden treasures. Teeming with mazes, crystals, fossils, and formations, Arkansas caves provide hours of adventure. Along with exploration, the caves also tell a story of a time when saber-tooth tigers and Native Americans used the caves for protection. Whether entering show caves like Mystic Caverns or more rugged caves like Hurricane River Cave, Cosmic Caverns, or War Eagle Caverns, you'll see pieces of Arkansas that few discover.
Lakes
Arkansas is covered by approximately 600,000 acres of inviting lakes. Some of the best and cleanest in the country, Arkansas' larger lakes include Bull Shoals, Greers Ferry, Norfork, Beaver, and Dardanelle. Fishermen, scuba divers, casual swimmers, and sailors all delight in the clarity and calmness of Arkansas' lakes. Smaller lakes include DeGray, Greeson, Hamilton, Catherine and Nimrod and also welcome water sports year-round.