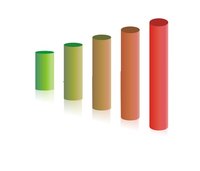 The unemployment rate sits at 9.4 percent, as of December 2010, according to the U.S. Bureau of Labor Statistics. That means almost one in 10 Americans are out of work. Usually, a rise in unemployment is preceded by an event. The latest spike in unemployment can be attributed to the recent recession, which saw millions of Americans put out of work, but other factors can play a role in more people becoming unemployed.
Recession or Depression
Unemployment rates can spike sharply during a recession or depression. During the Great Depression between 1929 and 1941, sparked by a stock market crash, the unemployment rate hit as high as 24.75 percent in 1933. During the most recent recession, starting in 2007, unemployment rose because many companies believed the recession would be long and severe, so employees were let go in large numbers. With more people out of work, fewer people were making as many purchases as before,so less money was being put into the economy, which means businesses were not generating as much revenue, resulting the need to cut costs and cutting staff.
Boom then Bust
A boom then bust in an industry can eventually lead to a recession, depending on how large the industry is and how many workers are let go. A boom, which is a quick increase of demand for an industry, can create a bubble. Depending on the strength of the industry, the bubble can bust, like the dot-com bubble of the early 2000s. In the dot-come bubble, which saw investment in Internet-based firms skyrocket, some firms used shaky business methods, causing a lack of confidence in the industry. The market corrected itself by tumbling downward, and many lost a lot of money they invested and their jobs.
Technology
Technological advancements can also put people out of work. For example, a company that manufactures cars may have at one time hired people to weld pieces of the body frame together. But a robot was created that could do the same job. A robot does not require a wage, benefits or even rest and is not confined to eight-hour shifts. Therefore, the investment in a robot makes much more economic sense for the company. The result is the elimination of the welder's position and an increase in unemployment.
Outsourcing Jobs
Outsourcing jobs to other countries has become a common business decision among American companies. The main reason: labor costs. According to a recent survey, 60 percent of respondents said they outsource jobs to India and 69 percent responded that the major reason was labor costs. Jobs are being eliminated in the U.S. and moved to India, thus creating higher unemployment in the U.S.