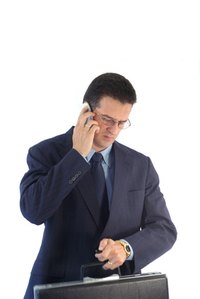 Business executives can hold titles such as vice president or senior vice president. Top executives can be presidents or CEO's (chief executive officers). Business executives need certain qualifications and skills to adequately perform their jobs. One essential executive skill is decision making. Executives often create company policies so they need to make the right decisions for their companies. There are also other key qualifications a business executive must possess.
College Education
Most top executives have undergraduate or master's degrees in business administration, liberal arts of some related field, according to the Bureau of Labor Statistics. Business executives need to be well-versed in many business disciplines, such as marketing, finance, computer technology, accounting and mergers and acquisitions. Most business executives learn the fundamentals of functions like marketing and finance by taking college courses. Business executives must have knowledge of all company departments because they are ultimately responsible for the success of their organizations. For example, a company president will need to know what advertising strategies his company is implementing so he can discuss advertising with shareholders.
Communication Skills
Business executives must have excellent writing and communication skills. Business executives usually create goals and objectives for their companies. Consequently, business executives must be able to clearly define various goals through writings and meetings so other directors and managers can follow them. Business executives must also have excellent speaking and presentation skills, as they often present important information in company meetings and throughout the community. For example, a business executive of a chemical manufacturer will need to keep the community apprised on how his company is protecting the environment.
Leadership Skills
Business executives also need leadership skills. Executives oversee the work of vice presidents, directors and senior managers in companies. Hence, business executives must choose the leadership style that works best with his management team. For example, an executive may create a team leadership environment so all directors and managers can contribute to company decision making. Conversely, some executives may need to exert more control over managers if the company is struggling financially. Moreover, executives may need to use charismatic leadership if a company management lacks motivation or drive. Charismatic leaders instill enthusiasm with their managers by getting them to believe they can be successful.
Planning Skills
Business executives need planning skills to achieve goals and objectives for their companies. For example, business executives will need to outline their plans for introducing new products. Additionally, business executives will need to decide the best ways to produce the products, the set deadlines for getting products produced. Business executives may also plan marketing research surveys to test the potential success of new products. Furthermore, a business executive may need to plan when and how to purchase or merge with other businesses. Business executives create plans for their companies but they must also oversee the implementation of their plans.