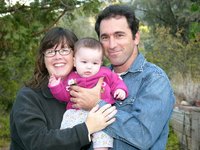 Family and Medical Leave allows for a person to take a maximum of 12 weeks of leave from a job when a serious family life event occurs. Situations such as a birth or severe illness are examples of these events. The act began in 1993. Although the intent of the act is to allow a family member necessary time off, certain conditions of the act have limited the scope of the act. A few states are increasing this scope to accommodate families in need.
Family Need
According to Working Families, a political advocate for family issues, 66 percent of women with younger children in the household work. An additional 20 percent of adult workers must care for an older relative. Imagine if you have a family member who is in a serious car accident and can't care for himself or if a parent is terminally ill. Trying to work and earn a living while caring for the family member is a difficult situation. The federal Family and Medical Leave Act (FMLA) is designed to allow a working person to have the necessary time to handle situations at home.
FMLA Limitations
The FMLA is an attempt to provide a necessary employment benefit for a person who has a family issues; however, the limitations make it difficult for most people to use. For example, the act does not apply to a business with less than 50 employees. The biggest restriction is that the employee is only allowed to take unpaid leave. Many people cannot afford to take the time off and are forced to reject the offer. Another downside is that the person must maintain his group health insurance while taking the time off.
State Provisions
Individual states are expanding the scope of the FMLA. California created a version of the act called the California's Paid Family Leave law. A person who works within private industry can take paid time off six weeks every year for family situations such as a birth or ill person in the family. The California act began in 2004. The wages a person makes while on leave are reduced, and the employee only receives 55 percent of his normal wage with an earning cap of $987, as of January 2011. The wages are paid by a 1.2 percent payroll tax. New Jersey is another state that has created a state family leave act. In 2009, New Jersey started the program that gives an employee two-thirds of a week's wage up to $561 a week (as of January 2011).
Impact
Creating FMLA provisions for employees raises concerns of abuse of the system. Many people taking time off every year could cause issues for businesses (an example of the impact is from 2009 and 2010 in California, when the state received 180,675 claims for leave). On average, as of January 2011, an employee receives $488 a week during leave. The average leave is 5.37 weeks. Approximately 88 percent of the employees using leave do so to care for a baby, which includes adoption and births. Data shows that employees are more likely to return to the job after taking leave and that employees making at least $20 an hour are more likely to take advantage of the program.