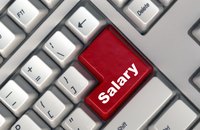 The field of administration services holds jobs for both upper-level and lower-level management, according to the Bureau of Labor Statistics. Because admin jobs can be found in several different industries and may require a variety of types of skills, the salary an administrative worker earns can vary depending on several factors, though most can expect full benefits.
Average Salary
The Bureau of Labor Statistics points out that competition is more fierce for higher-level administrative positions. The mean annual wage for administrative services managers in the United States was $81,530 as of May 2009. The bottom ten percent earned an average of $38,690, while the top ten percent earned $131,730. State University reports that the median salary for administrative assistants is $34,970, while those assistants in the highest ten percent earned over $53,460 on average.
Industry
The industry in which a administrative manager works has a bearing on his salary. Those working for the local government earn $78,160, while those employed by the state government earn $73,820. The industry of petroleum and coal products manufacturing earn the highest wages for administrative managers at $132,700, followed by those in the industries of apparel, piece goods, and notions merchant wholesalaers at $114,060 and motion picture and video industries at $113,350.
Location
Any organization or company considers both the demand for the type of administrative job, as well as cost of living, when setting salaries. For administrative managers, Rhode Island is the top-paying state at an annual mean wage of $104,890. New Jersey follows at $103,080, and New York, Ohio and Florida pay average salaries of $102,950, $101,910 and $96,050 respectively.
Benefits and Outlook
State University states that full-time administrative positions, such as that of administrative assistant, typically receive paid holidays and vacations, health and life insurance and other fringe benefits. While the employment growth for these jobs is average, the Bureau of Labor Statistics notes that "industries least likely to be affected by economic fluctuations tend to be the most stable places for employment," as the strength of the economy has an effect on on the demand for administrative experts.