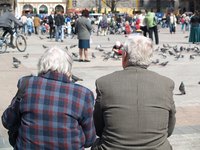 Many people want to retire from their full-time jobs when they are in their 50s or 60s. At that age, most people have worked at least 30 or 40 years, and they are ready to just enjoy life and have fun. If you are coming up on retirement, you'll need to prepare to support yourself financially for at least 20 years. When estimating how much you'll need to save for retirement, keep several things in mind, such as budgeting for the typical retirement expenses.
Housing
Whether you plan to stay in your already-paid-off home or move to a new location, you'll need to budget for typical housing costs and fees. Some common housing costs include annual real estate taxes, home insurance and maintenance fees. Other costs are monthly utility fees and grocery bills. According to "Newsweek," many retired couples can save lots of money by simply downsizing and moving to an area that offers a lower cost of living. For example, if you live in an expensive city, consider downsizing from a large house to a condo or move to a more cost-efficient area or state, such as the Sun Belt, which generally spans the southern part of the United States.
Transportation
Many retirees have two- or three-vehicle households when they reach retirement. If this is your situation, you'll need to think about how you plan to sustain your current transportation needs, as well as plan for future needs. Most retired couples will only need one vehicle after retirement. If you eliminate an unnecessary car, you can save money on gas, insurance and maintenance. You'll also need to budget for future car payments or purchases, as most people will need to replace their vehicles at some point in their retirement.
Travel and Leisure
Most retired persons have increased travel and leisure expenses, according to the website Retirement Planner. This is simply because you'll likely have more leisure time than you did when you worked full time. If you've been putting off travel plans and vacations, or you plan to spend more time on the golf course than you did when you worked, you should budget for it. Think about the cost of overall planned vacations a few times a year, as well as monthly leisure and entertainment costs, such as movies and dinner or country club dues.
Medical and Health
It is very common for health care and insurance expenses to go up after retirement. This is because people age and your health may deteriorate. To add to that, you'll probably have to pay for your health insurance out of pocket until you reach the age of 65 and qualify for Medicare. At that point, you may have to pay for supplemental insurance for any Medicare gaps. You'll need to budget for these expenses before you retire. Consider what current medications you're taking, your current state of health and think about any hereditary diseases that run in your family.