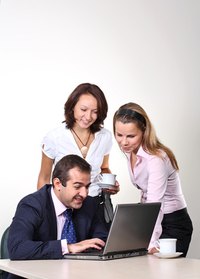 A successful company must have an effective marketing program or department to help spread the word about the company's products or services and attract new business. Internal marketing is an important aspect of marketing. During internal marketing campaigns, companies send various messages or information to employees, shareholders and partners. The goals vary, but typically, internal marketing attempts to get employees or company associates excited about new programs or services, so they can communicate that excitement to external customers or clients. Internal marketing is also a way to share company information.
Email
Companies who engage in internal marketing activities can quickly and easily communicate with internal company employees and associates by sending an email to the entire company or specific people or departments within the company. The email can also include attachments or other marketing materials that those employees can use to convey information to clients or to help launch external marketing campaigns. For example, an internal marketing email to a sales team can announce new incentive programs and offer prizes to the employee who generates the most sales from the new program. The same email can contain information about a product or service the company is launching that the employee can use as a sales tool.
Newsletters
Newsletters are another tool companies can use to communicate internal marketing messages to company shareholders and employees. Newsletters can be printed and put into people's office mailboxes, or posted on an internal website that employees can access at their convenience. Newsletters can also be mailed to people's homes or to remote offices for telecommuting employees. The newsletters can contain company news and announcements, as well as information about new company goals, products and incentive programs.
Meetings
Meetings are another tool companies use for internal marketing. Modern technology allows face-to-face meetings via live video conferencing, so it does not matter where attendees are. Meetings can also be in company conference rooms or off-site at a larger facility. During the meetings, executives and managers announce to the company the details behind new internal marketing campaigns. They provide a more personal approach to internal marketing than emails or other written communications.
Screen Messages
Another internal marketing tool is a customized screen saver or message that automatically appears on employee's computer screens. These screen messages can be created by a graphic designer and deployed internally for all employees to see. They can even be interactive by including a quiz or questionnaire that helps employees understand the new messages in the internal marketing campaign. A screen saver is also a great way to launch new product or company branding by including a redesign of a logo or tag line.