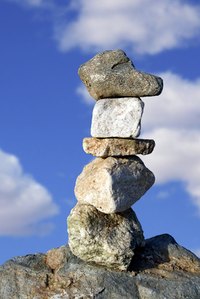 The term "balanced budget" is usually used in context with government budgets, but can also be applied to businesses, families and individuals. Whether it be a household's monthly budget or the federal government's annual budget, keeping it balanced is important to keep track of finances. A budget is balanced when expenses do not exceed revenue.
Spending Limits
Creating a budget is a good way to see how much a person, organization or government body is spending in comparison to how much money is earned or generated. A balanced budget will guard against spending more than a person, or organization, has available. This creates a limit on the amount of money in certain areas and overall.
No Debt
Not having expenditures exceed income ensures that there is no accumulated debt. Debts and deficits, however, are common for many levels of governments. For example, the U.S. national debt is over $14 trillion, as of early 2011. If Washington produces a balanced budget for 2011, no more money would be added to that amount. A surplus, when revenue exceeds spending, is often used by governments to pay down debt.
Fiscal Responsibility
A balanced budget is fiscally responsible, which is important to governments and publicly owned institutions. This is because these organizations are responsible to taxpayers, who will question the use of tax dollars. A balanced budget means the government is not taking on more debt and taxation levels
Economic Growth
Economies can grow faster when government budgets are balanced. It is believed that a balanced budget results in lower interest rates and increased investment and savings. When facing budget deficits, debts grow. In order to pay off or lower debt levels, governments will be forced to eventually produce surplus budgets. While some may be able to increase government revenue in other ways, others will be forced to increase taxes or cut spending on government services.