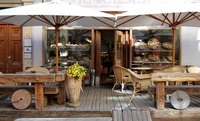 The place where goods are bought or consumed can have an effect on the customers' perceptions about the value and quality of the product. The same is true of the places where services are provided. While some products and services can get away with shabby or nondescript premises, for many others having an understanding of the effect that the physical environment can have on customer perception is crucial.
Effect on Products
The physical environment can exert a noticeable influence on the behavior and perception of the customer, although this influence is more powerful for some products and services than for others. Generic products with little symbolic or status value (e.g, paperclips) are more likely to be evaluated on intrinsic factors like cost, while high-prestige products (e.g, designer clothes) are more likely to be affected by the properties of the place of sale that would convey a certain aura.
Effect on Services
The effect of the environment on customers is even stronger for service interactions, as in the absence of an actual physical product, the customer will look for clues on the quality of the service offered. Some services are more affected by this than others. Those where customers have little or no interaction with the premises (like dry cleaning or photo developing) are less affected than services where long customer-provider interactions are usual (like restaurants).
Mechanisms of Influence
There are three main ways in which the environment can affect purchase behavior. First, it can attract attention, for instance making a store or restaurant distinctive through design, color, motion or sound. Second, environment can become a message-creating medium, conveying subtle (or not so subtle) signals about the product or service offered. For example, low light and candlesticks will prepare the customer for an upmarket fine-dining experience. Finally, the environment can act as an affective medium, where color, smell and sound evoke visceral reactions that will influence purchase probability.
Signal Management
The physical environment is not just window-dressing. Customers that have not tried a given product or service before will behave like detectives and look for information, consciously or unconsciously building their expectations abut that which they cannot see on the basis of that which they can see, with nicer environments usually associated with more credible providers. For instance, on seeing untidy floors at a restaurant a customer may suspect that the kitchen is similarly untidy, even if he cannot see it. Similarly, shabby-looking chairs in the lobby of an investing firm may fail to convey financial stability.