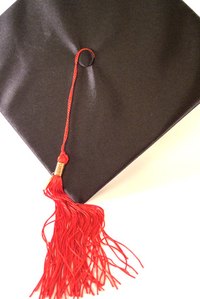 Fundraisers for high school seniors can help pay for class trips, gifts to the school and other events to commemorate the scholastic achievements of the graduating class. Plan fun and profitable fund-raising activities that involve the school and the community. Advertise your events widely to involve lots of people who can contribute to the fund-raising efforts.
Butler
Auction off seniors as butlers for a day. Seniors can be butlers for underclassmen, with duties that include carrying books, waiting in line for lunch and cleaning lockers. Or they can serve as butlers for a community member's household for a day, helping to clean and organize the house or run errands. Start the bidding at $20 -- the highest bidder wins a senior butler for a day.
Date Night
Auction off a date night with a senior. Enlist seniors who will agree to go on a date with an underclassmen who submits the highest bid. Dates can be prearranged activities, such as dinner at a local restaurant that may even sponsor or pay for the event, or participants can arrange the date. Sign up chaperones for the dates, too.
Car Wash
Host a car wash at a local business' parking lot. Advertise the car wash a few weeks in advance by hanging fliers around the community. On the day of the car wash, bring buckets and plenty of car soap, and have all participating seniors take on a car-washing duty. Charge at least $5 per car, with all the proceeds going to the senior fund. This is especially fun for seniors around graduation time, as the weather warms up in most parts of the country at the end of a school year.
Battle of the Bands
Host a "Battle of the Bands" event at the school or a local auditorium or community center. Senior bands get the chance to show off their musical talent in front of a large crowd, and the class can raise money through ticket sales. Promote the event several weeks in advance. Invite students, parents, teachers and the rest of the community. Charge $10 admission per person, with all proceeds going toward the senior fundraiser charity or event. The winning band can be awarded the chance to perform at other community events, like a graduation party or prom. Audience members all get one vote for which band they liked most.