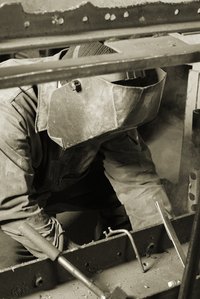 Third shift positions, often called the "graveyard shifts," are the last working shift of the day. Businesses that work on a shift system have three shifts, operating 24 hours a day and rarely close down. The third shift begins late at night and continues through to the early morning. The exact hours vary by organization. Working the third shift has advantages and disadvantages.
Definition
Many companies hire employees to fill a shift. A typical shift is for eight hours. The first shift typically is from 8:00 a.m. to 4:00 p.m.; the second from 4:00 p.m. to 12:00 a.m. and the third from 12:00 a.m. to 8:00 a.m. The third shift is referred to as the night shift. It requires an employee to become adjusted to sleeping during the day and staying up all night.
Examples
Many types of businesses require working around the clock. These include hospitals, police and fire departments, manufacturing and production plants, the media, call centers, utility companies, hotels, transportation and some restaurants. Because of the nature of these businesses, the companies continue their operations 24 hours each and every day.
Health Issues
Employees working the night shift often experience health and injury problems. They are more prone to accidents due to fatigue and insufficient sleep. Working the third shift can weaken employees' immune systems causing decreases in energy. It is difficult for a body's internal clock to become accustomed to working this night shift, especially when it reverses on weekends or other times. This can lead to insomnia and indigestion. Other health issues can include increased stress and blood pressure levels.
Tips
It is vital that third shift workers get a continuous eight hours of sleep per day. This is accomplished by forming a routine. It may consist of sleeping eight hours immediately after work or immediately prior to work. Eating properly is another way to help the body stay healthy during third shift work. Avoid skipping meals and eat healthy snacks throughout the day. It is also important to drink plenty of water throughout the day.
Advantages
Many jobs pay more to third shift workers because these hours are less desirable than "9 to 5." This may be an incentive for people to accept these positions. Often, less work is expected of these workers because the atmosphere is more laid back.