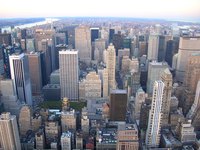 The "Today" show is a live morning news program that airs on NBC. Located next door to famed Rockefeller Center, the "Today" studio is situated at the intersection of Rockefeller Plaza and 49th Street in New York City. "Today" hosts often come out to Rockefeller Plaza to talk to people who have gathered there to watch the filming. There are many hotels that are within walking distance of the "Today" show studio.
Manhattan Centre Hotel
The Manhattan Centre Hotel is located just across the street from Rockefeller Center. Guests can literally roll out of bed and walk just a few steps to catch a glimpse of "Today" hosts. Hotel guests can also walk to other nearby attractions like Radio City Music Hall and St. Patrick's cathedral. Those who stay at the Manhattan Centre Hotel receive discounts on NBC tours and at the NBC gift shop in Rockefeller Center. Additionally, the hotel provides free cold bottles of water, coffee and tea to its guests.
Club Quarters
The Club Quarters hotel chain has a location very near Rockefeller Plaza and the "Today" studio. Club Quarters hotels are open to member organizations and their employees during the week. For those who are not members, Club Quarters guest rooms are available during the weekend. "Today" airs a weekend edition of its program; however, the weekend hosts are different from those who appear on the program during the week. Saks Fifth Avenue and the Museum of Modern Art are both within walking distance of the hotel.
Radio City Apartments
Radio City Apartments is a hotel minutes away from the "Today" studio. The hotel rooms are meant to feel like cozy apartments and feature kitchen units. The apartments can accommodate between two and five guests. For business travelers or those who just want to check their email, the hotel offers free wireless Internet service. The hotel is within walking distance of Times Square and New York City's theater district. As a convenience to its guests, the hotel provides free city maps.
The Muse Hotel New York
The Muse Hotel is located approximately four blocks from the "Today" studio. It is a boutique hotel with 200 guestrooms and suites, and plenty of meeting space. Guest rooms with balconies are available upon request. Each night the hotel offers a wine service and reception in the lobby. The hotel is connected to the Nios Restaurant, which specializes in spirits and comfort food. Times Square is only a short walk from the Muse Hotel.