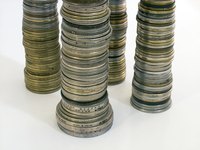 The major distinction between a nonprofit and a for-profit business is their financial objectives. For-profit companies' primary objective is to provide its shareholders with a return on investment. Nonprofit organizations cannot distribute funds to founders or members. If income and funds exceed operating expenses, the organization keeps and deploys these funds to help reach goals, such as charitable or civic purposes.
Earn Tax-Exempt Status
The Internal Revenue Service code specifies certain conditions under which a nonprofit organization may be exempt from paying corporate income tax. An exempt nonprofit organization is normally also exempt from state income tax as well. Nonprofit corporations apply for this tax exempt status, which the IRS reviews and makes a determination of the organization's eligibility. Another advantage of the tax-exempt status is that charitable donations made to the nonprofit are tax deductible for both individuals and corporations making the donations.
Same Legal Protections as a Corporation
Just as with for-profit corporations, nonprofit corporations afford protection from the company's creditors for employees, founders, directors and members. Only the assets of the nonprofit entity are subject to claims from creditors or the courts. This protection can be vital in attracting top people to the management team of the nonprofit.
Employee Compensation at Market Rates
As a nonprofit organization grows, the task of managing it becomes more complex, as with any company. Revenue growth and providing high-quality service requires efficient management which translates into hiring and retaining top-quality people. The nonprofit is permitted to pay its employees salaries equal to what similarly skilled people at for-profit companies earn. The nonprofit can also compensate its directors for the time they devote to the organization's development.
Purpose
If the organization's primary reason for being in business is to serve a charitable, educational or civic purpose, the nonprofit form of organization can be ideal. The nonprofit form of organization allows the entity to solicit donations from the general public as well as apply for grants from foundations or government entities that are only permitted to provide funds to nonprofit entities.
Nonprofit Doesn't Mean Not Valuable
Nonprofit organizations can grow into large entities with well-known brand names. Their ability to accept charitable donations allows them to build their revenue base and increase the number of individuals served by the organization. Large nonprofit organizations include Boy Scouts of America, Special Olympics and the Public Broadcasting Service, known as PBS, which has more than 300 member television stations across the U.S. The Green Bay Packers National Football League team is a nonprofit corporation originally incorporated in 1923. Forbes magazine values the team at more than $1 billion.