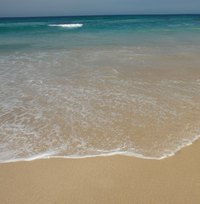 The Caribbean is one of the world's top destinations for relaxation. As such, many travel companies offer affordable trips even for the last-minute traveler. In fact, some of the best deals come at the last minute for the savvy researcher, with companies trying to fill all open slots before departure.
Cheap Caribbean
Cheap Caribbean prides itself in offering luxurious accommodations at the lowest available price. As of 2011, it guarantees the lowest online prices on added nights to any given package. No need to worry about a cloudy day ruining a vacation, because Cheap Caribbean offers a $100 discount on the next vacation booked with the company. Weather and hurricane insurance are also provided.
Trips include the Bahamas, Riviera Maya and Jamaica. Prices start as low as $299 for a four-night trip with air included.
Travelzoo
Travelzoo boasts of over 21 million subscribers worldwide. Depending on the season of travel, deals may be found for under $100, though this is rare. As of 2011, most all-inclusive trips range from $299 to $599, when found at the right time.
Some popular sites include Bermuda, Punta Cana, Dominican Republic, Jamaica and Puerto Rico. Normally the travel deals are priced per person, but sometimes it's possible to obtain a larger discount when booking accommodations for a couple or a group.
Funjet Vacations
Though Funjet began as an airline, due to the rising demand of all-inclusive vacations, it has widened its horizons to offer air, hotels and activities. Many resorts even offer spa credit, dining and entertainment. During less-traveled vacation months of the year (winter months), it's even possible for children to stay free.
It is easy to find destinations within a 30-minute distance from the destination's airport. As of 2011, an all-inclusive three-night trip to Cancun is $429, and $549 to Jamaica.
Hotwire
Hotwire exhibits an all-inclusive variety of homes, hotels, cars, cruises and flights. Hotwire offers last-minute Caribbean trips to Cancun, Jamaica, Punta Cana and Cozumel. The Cancun package varies from a five-star hotel to a beach bungalow. Activities include the Mayan ruins and the nearby 988-acre ecological park.
For those seeking a low rainfall destination, Punta Cana is a prime candidate. As of 2011, most trips range from $309 to $1,099 per person, depending on the time of travel.