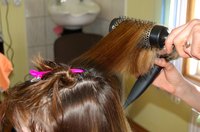 If you enjoy cutting and styling hair, consider a career as a cosmetologist. Every state requires cosmetologists to be licensed in order to provide services to the public, though the specific requirements for licensing vary from state to state. As a cosmetologist, you may have the opportunity to work a more flexible schedule than some other careers, along with the opportunity to work for yourself.
Education
In order to be a licensed cosmetologist, most states require you to have a high school diploma or GED certificate. In addition to that, cosmetologists are required to complete training in a state-licensed cosmetology school. The average time it takes to complete a cosmetology program is about nine months. Cosmetologists usually take classes throughout their career to keep up with current trends and new techniques.
Compensation
The compensation for a cosmetologist is affected by where you work and the amount of experience you have. Pay Scale, a survery salary website, reports that hourly rates for cosmetologists range between $7.54 and $10.21 per hour nationally, as of January 2011. Adding in overtime, commissions and tips, the Bureau of Labor and Statistics reports that the average hourly compensation as of May 2008 was $11.13 per hour. Those in the top 10 percent earned an average of $20.41 per hour.
Schedule
Cosmetologists spend the majority of their work hours on their feet. As a cosmetologist, you may need to plan to work evenings and weekends, the time frame when more customers are available and salons are busier. Cosmetologists have the option of working as an independent contractor or as an employee. As you gain experience, you may be able to charge higher fees for the services you provide and may have some flexibility in your work schedule.
Considerations
If you want to work as a cosmetologist, you may be able to start studying cosmetology in high school. Some states permit people as young as 16 to obtain a cosmetology license if they meet the other licensing requirements. Other appearance-related occupations, like skin care specialists or manicurists, require less training but may also be paid a lower salary. As a cosmetologist, you will be expected to understand how chemicals to color hair can cause adverse reactions with clients and work with clients to minimize the risk of harming a patient or causing an allergic reaction related to the products used.