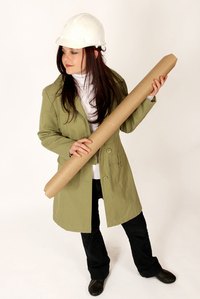 Women in the workplace have historically suffered from inequality with their male counterparts; even as women have moved up to positions of power, issues still remain. As a professional woman, you will need to be prepared to deal with gender-specific problems in the workplace; by being aware, you can be better prepared to handle them as they come.
Maternity
When employers hire a woman, they are forced to consider the possibility that she may choose to have a child at some point during her employment; in that case, the company will need to determine a maternity leave policy and arrange to have her work covered during the leave. Despite laws enacted to prevent employers from discriminating against pregnant employees, Inc. magazine reports that the number of cases involving pregnancy discrimination brought before the Equal Employment Opportunity Commission rose between 1996 and 2005. As a professional female, you will need to consider carefully the impact having children may have on your career.
Wage Inequality
According to Public Services International, women across the world still earn less than their male counterparts with equal education and experience. Even in the same position at the same company, a female employee might make less. Often, this problem is built into the system. In order to combat wage inequality, you will need to be proactive and persistent in insisting that your salary is at the same level as your male colleagues.
Attitudes
In some industries, the "old boys club" attitude still prevails and women can be subjugated or ignored. According to an article in The Daily Californian, his happens at some universities where the old guard of male professors and researchers is firmly entrenched, and the research and ideas of female faculty are treated with less respect. The article points to one instance where a female faculty member was locked out of a lab by a male colleague. In some companies, there is a tradition of men holding positions of power. When faced with these attitudes, you will be forced to choose a response and the best way to achieve success within the system. Some women choose to try to change the process; others find ways to work around it and use it to their advantage.
Violence
According to the AFL-CIO, women in the United States face the threat of violence in the workplace. One study showed that 12.7 percent of the crimes committed against females happened while they were at work. Depending on the industry you work in, the risk may be higher or lower based on environment, attitude of co-workers, and situational factors. At work, you must face the possibility of rape, violence, sexual assault, and other forms of assault. Although it does not make sense to be perpetually afraid of these possibilities, awareness is key to prevention.