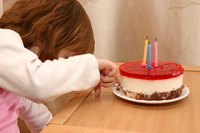 Families with young children in Indianapolis, Indiana, can find fun and entertaining dining venues to regularly patronize that both the children and parents will enjoy. Kid-friendly restaurant options can be found that specialize in small or large group children's birthday parties, weekend amusement park entertainment and dining, or children's dinner theatre shows. Parents should always call ahead to restaurants for large groups dining together or for special parties, but many fun theme restaurants can be found to enjoy with children that require no reservation at all.
Johnny Rockets
The international theme restaurant chain known as Johnny Rockets has two locations within greater Indianapolis. The kid-friendly, all-American fast food menu and nostalgic bebop diner theme attracts families with young children to enjoy classic oldies and fountain milkshakes. Children enjoy making selections on the tabletop jukeboxes and watching the festively dressed food servers dance behind the fountain counter. Servers are trained to focus on children in various ways, such as entertaining them by dousing their cheeseburgers and french fries with artistically applied ketchup.
The Final Lap Restaurant
Located in Indianapolis' Greatimes Family Fun Park amusement complex, the Final Lap Restaurant offers a kid-friendly menu consisting of pizza, hot dogs, nachos and sandwich baskets with chips. Group rates are available, which makes it an ideal place to hold a weekend party. Reservations for large groups or parties are recommended. Discounts are available for those who purchase armband admissions for the Greatimes Family Fun Park rides and attractions to use during the same visit.
Chuck E. Cheese
Chuck E. Cheese, the nationally known pizza restaurant chain, has five locations within 30 miles of Indianapolis, and specializes in reserved and last-minute children's birthday parties. Each restaurant has a pizza, fried chicken appetizer and salad-centered menu with additional kids meal items. Meal deals are available for combination purchases of food and attraction tokens that are used for attractions in the restaurant's adjoining entertainment and game area. Children can win prizes by playing the games and a special Tokens for Grades reward program is in operation for grade and middle school children who bring in their report cards in 2011.
Beef and Boards Dinner Theatre
A unique dining and entertainment venue within Indianapolis designed with children in mind is the Children's Theatre at Beef and Boards Dinner Theatre. Scheduled kid's shows are presented live on stage while juice and snacks are provided. In 2011, musical stage shows, such as Nickelodeon's Blue's Birthday Party and Disney's Pinocchio, are scheduled for multi-week presentation runs on Fridays and Saturdays; each show lasts approximately one hour.