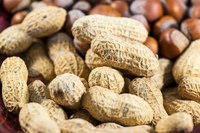 If you shy away from peanuts because you think they're bad for you, don't. Yes, they have more fat than other snacks, but it's healthy, monounsaturated fat. They are also high in protein, fiber and resveratrol, a phytonutrient that can reduce your risk of cancer, heart disease and Alzheimer's, according to a 2014 report in Critical Reviews in Food Science and Nutrition. Peanuts also contain several important vitamins that deliver health benefits.
Niacin or Vitamin B-3
Niacin is an important B vitamin that helps with metabolism and proper functioning of your nervous system. Getting adequate amounts in your diet may also prevent heart disease, Alzheimer's and cataracts, according to the University of Maryland Medical Center. The recommended daily intake for men is 16 milligrams, and 14 milligrams for women. A 1-ounce serving of raw peanuts, which is approximately one handful, contains roughly 3 milligrams of niacin, or 21 percent of the recommended intake for men and 24 percent for women. Roasting your peanuts slightly increases their niacin content.
Folate and Other B Vitamins
Adequate folate intake helps prevent age-related changes to the brain, such as Alzheimer's and dementia, according to the National Institutes of Health Office of Dietary Supplements. It also plays a role in reducing your risk of cancer, heart disease, depression and birth defects. A 1-ounce serving of raw peanuts contains 68 micrograms of folate, which is 17 percent of the recommended intake of 400 micrograms for adults. If you are pregnant, your recommended intake increases to 600 micrograms, and a handful of peanuts will still meet 10 percent of that recommendation. Roasted peanuts have a lower niacin content.
Other B vitamins in peanuts, at much smaller amounts, include thiamine, vitamin B-6, riboflavin and pantothenic acid.
Vitamin E
You may not think of peanuts as a good source of vitamin E, but a 1-ounce serving contains just over 2 milligrams, which is about 15 percent of the recommended intake of 15 milligrams for adults. Vitamin E is an antioxidant that protects your organs and tissues from cellular damage. It also widens your blood vessels, reducing your risk of blood clots. Roasted peanuts contain slightly less vitamin E.
Don't Go Nuts
The key to eating peanuts for health benefits lies in moderation. A handful of peanuts can deliver important benefits, but overindulging adds excess fat and calories to your diet, which may lead to unwanted pounds.