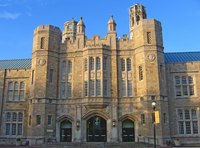 Financial aid for tuition and other related college expenses is calculated using a formula called the expected family contribution (EFC). The application for financial aid using an EFC calculation requires both the student and parents to disclose all sources of income and savings, including those funds held in a bank account. A student is required to honestly report any monetary savings available in her checking and savings accounts, but the student's bank account is not directly accessed by those determining financial aid.
EFC Calculation
The expected family contribution determines the amount of financial aid a student is eligible to receive. The EFC calculation includes a section detailing the income of the parents and the income of the student applying for financial aid. According to College Board's EFC calculation, the parents and college-bound student report their adjusted gross income, taxes paid and assets including bank accounts, non-primary real estate properties and business equity. The EFC shows a contribution amount expected by the parents and a contribution amount expected by the student.
Financial Aid Application
A student is required to disclose all available funds in both his checking and savings accounts when he completes a financial aid application. Most federal and state financial aid applications require disclosure of bank account funds. Organizations administering financial aid often request end-of-the-year tax returns and W-2 forms showing income. These tax documents help establish income levels and potential need-based aid. Applicants record all income amounts on the financial application form; however, financial aid administrators do not have direct access to bank accounts.
Bank Accounts
Regardless of whether a student has a checking or a savings account, financial aid administrators cannot access either of those bank accounts. A bank account is a personal financial account, so only those who are signed onto the account may access it. Account balances, deposits and withdrawals are not available for public viewing by financial aid administrators. A bank account is private property.
Cash
With the EFC calculatoin and most financial aid applications, a financial aid administrator does not differentiate between funds available in a bank account and cash on hand. The application forms require the disclosure of available monetary funds that students can use for tuition and other expenses. As a result, keeping cash on hand versus keeping the money in a bank account makes no difference. Financial aid applications require disclosure of available funds whether the money is held in a bank account or not.