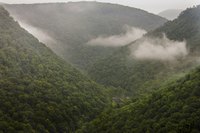 Pennsylvania state parks offer access to some of the Commonwealth's most scenic natural areas. They showcase Pennsylvania's diversity from Lake Erie shores to the Pocono and Appalachian mountains and densely forested river valleys.
Northern Pennsylvania's Grand Canyon
Known as the Grand Canyon of Pennsylvania, Pine Creek Gorge spans 47 miles and is shadowed by cliffs as tall as 1,450 feet. It's considered one of the best examples of a deep gorge in the country portions, and portions are designated a National Natural Landmark. Overlooks at Leonard Harrison State Park in Wellsboro and Colton Point State Park, also in Wellsboro, offer stunning gorge views. Harrison's mile-long Turkey Path Trail descends from the east rim through the wilderness area to the canyon floor. Easy trails along the opposite rim at Colton Point State Park provide views and birding opportunities. Deemed by the Pennsylvania Audubon Society an important bird area, the gorge is home to bald eagles and several species of warblers. Bicyclists, hikers and cross-country skiers enjoy scenic views along the 62-mile Pine Creek Trail that is accessible from both state parks.
Southern Scenery
Enjoy panoramic views of Cumberland Valley from Kings Gap Environmental Education Center at Carlisle. The state park spans over 2,500 acres on South Mountain. Twenty miles of trails ranging from easy to difficult offer options for hiking and taking in the mountain scenery from overlooks. It's also possible to experience mountain vistas while driving through the park's Mansion area.
Take in sweeping views of Pennsylvania's natural glory from its second highest mountain at Blue Knob State Park near Bedford. Open from sunrise to sunset, the park overlooks Ridge and Valley Province. A privately operated chairlift provides northeast views. Chappells Field near the campground offers southeast vistas, while Willow Springs picnic area showcases the southern view. There are 18 miles of trails winding through the park, including Mountainview Trail with its Pavia Overlook.
Eastern Slopes and Boulders
Experience the beauty of three states from the summit of Camelback Mountain. Open spring through December, Big Pocono State Park at Tannersville spans Camelback slopes. The park's scenic drive provides views of sections of Pennsylvania, New Jersey and New York. Picnic at 2,100 feet above sea level or hike over 8 miles of trails, including bike trails along the eastern mountain slope. Indian Hiking Trail, also on the eastern slope, is favored for its vistas. Blueberries, sweet fern and mountain laurel splash color and beauty along the pathways.
At Hickory Run State Park in Carbon County, visitors discover beauty beneath their feet. The 16,000-acre park located in the Pocono Mountains foothills contains Boulder Field, a National Natural Landmark. Allow three to four hours to hike the Boulder Field Trail and explore the starkly beautiful 30-acre stone field.
Western Waters
Laurel Highlands nestle along the western ridges of the Appalachian Mountains embodying 3,000 square miles. Ohiopyle State Park in Ohiopyle offers access to many of the Highland's scenic points. Almost 80 miles of trail wind across park grounds, including a little more than 6 miles of the Laurel Highlands Trail. While a strenuous hike, stunning overlooks and creeks make for a rewarding trek. Waterfall highlights include the 30-foot-tall Cucumber Falls and Ohiopyle Falls, which is easily viewed from an observation deck at the park's Falls Day Use area. Driving tours showcase park wildlife, gorges, caves and waters.
Pennsylvania's only seashore park, Presque Isle State Park, hugs Lake Erie's coastline for 7 miles. The scenic National Natural Landmark is a hot spot for observing migratory birds, while its 14-mile paved Karl Boyes Multi-Purpose National Recreation Trail traces Presque Isle Bay and the freshwater sea. Between May and September, boat tours depart from the park affording views of the coastline, three historic lighthouses and Gull Point Nature Preserve.