Although the Riley County Courthouse in Manhattan, Kansas, and the Great Pyramid of Giza were built thousands of years apart for different purposes, they have much in common. They both are built of limestone. Limestone has been a desired building material throughout the ages, so much so that structures from ancient times, the Middle Ages, and today feature it. Limestone is popular in construction because of its enduring properties.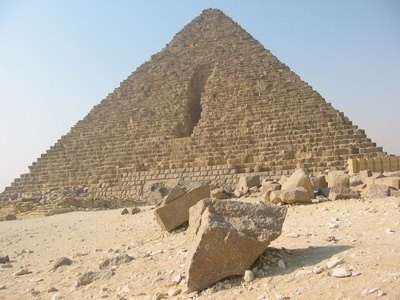 (great pyramid of giza image by Sammy from Fotolia.com)
Limestone is a sedimentary rock composed mainly of calcium carbonate. Limestone used in construction today usually formed in earlier geological times either from accumulation of organic remains or crystallization from seawater. In the former method, as shell-producing and coral-building sea organisms died, their remains composed of calcium carbonate fell to the bottom, formed layers, and with time and pressure the layers gradually turned into limestone. In the latter crystallization method, calcium ions combined with carbon dioxide to form calcium carbonate. Calcium carbonate is insoluble, so it precipitated out into layers, which turned into limestone, again as a result of time and pressure.
limestone mine image by Alex White from Fotolia.com
Of all the accessible sedimentary rocks on the earth's surface, approximately 10 percent is limestone. It is not merely coincidence that Europe and North America have so many limestone buildings and landmarks; quality limestone is plentiful in both continents.
Limestone is fairly easy to cut into blocks and carve. European medieval churches and castles feature gargoyles carved out of the material. Limestone is durable and desired by those who wish to build lasting structures, from the pharaohs of Egypt to the captains of industry. Limestone is available in a number of colors, including white, buff, gray and variegated.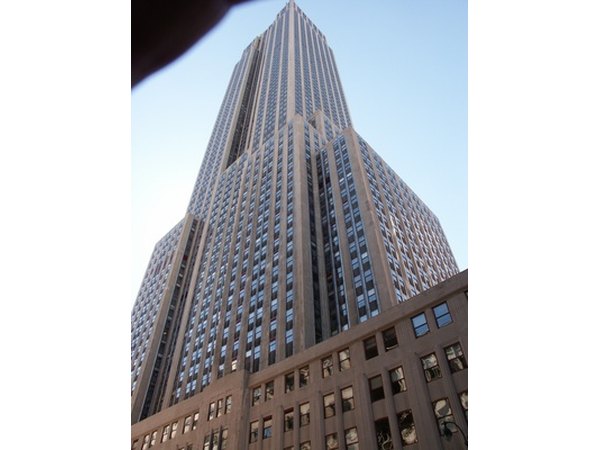 empire state building 3 image by michael luckett from Fotolia.com
Limestone appears in building construction as walls (blocks, slabs and plates), floor tiles, stair treads and windowsills. While these uses probably are what most readily come to mind, limestone appears in other ways, too. Limestone, when burned and made into lime or quicklime, is a component of other building materials, such as cement and mortar. Finely crushed limestone applied as a coating on asphalt-impregnated roofing shingles makes them more weather- and heat-resistant.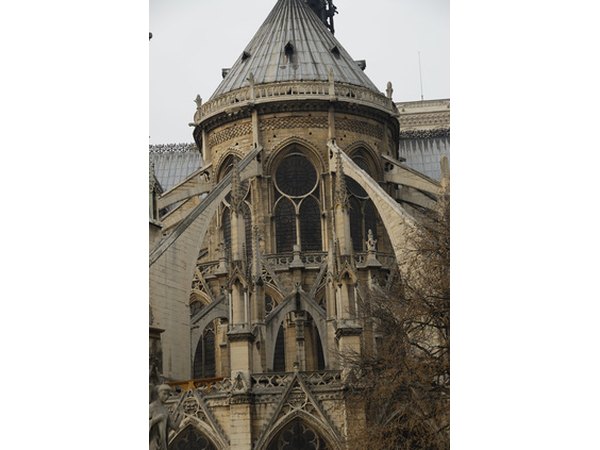 notre dame de paris image by apeschi from Fotolia.com
Limestone is extremely heavy, so its use for tall buildings is more limited. Limestone also might not be a likely choice of building material on projects where cost is an issue as limestone is relatively expensive. In areas where acid rain is a problem, builders must consider that limestone reacts to acidic solutions. Acid rain dissolves the surface of the rock or alters it, for example, by leaving behind a black crust.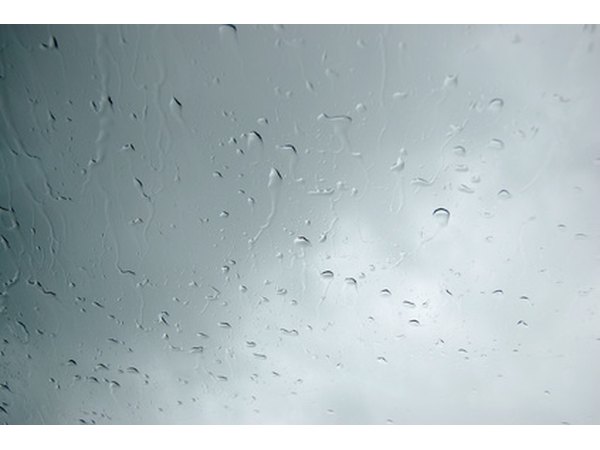 rain drops on the glass image by NBo from Fotolia.com
Promoted By Zergnet