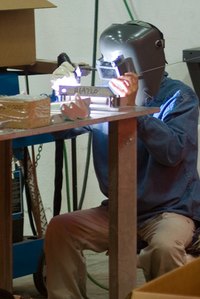 MIG welding, or metal inert gas welding, is a type of welding sub-specialization commonly used in the heavy manufacturing sector. Two thirds of all welders work in manufacturing according to the Bureau of Labor Statistics, and while the demand is not expected to grow, with a projected two percent decline between 2008 and 2018, the job prospects are likely to remain positive for highly skilled MIG welders, provided their training remains current.
What Working as a MIG Welder Entails
One of the differences between MIG welding and other forms of welding is that it uses a gas pocket of argon or helium to protect the weld area from the outside atmosphere. Another key difference is that the heat that melts the wire feed comes from electricity rather than a flame. MIG welding is commonly used because it can be taught in a shorter span of time than other welding methods, according to Marty Rice in his 2004 article, "MIG Welding, the Basics and Then Some."
Educational Background Required for MIG Welders
Training for MIG and other forms of welding may begin as early as high school, facilitated by shop class programs. Students with an interest in the profession can move on to post secondary training at technical and vocational schools, or even via service in the military. Some companies may hire unskilled or less-skilled workers, either for an apprenticeship program or informal on-the-job training.
Entry-Level and Best in Field Earnings as a MIG Welder
The highest ten percent of earners in welding brought in a reported average of $24.38 an hour, according to the May 2008 report by the Bureau of Labor Statistics. The lowest ten percent bracket of the field reported hourly wages of $10.47 hourly. Welding in remote industrial locations, like oil fields or hostile environments such as underwater rigs, can offer workers hourly rates significantly higher than is the norm for the industry.
Average Salaries for MIG Welders
The median hourly wage for welders is $16.13, according to the Bureau of Labor Statistics. Payscale, a private statistical research group, reports that MIG welders reported an average yearly income of $58,200. The average income for MIG welders is somewhat limited by the fact that they directly compete with industrial automation, lowering the overall amount of work required of welding staff in semi-automated plants, with an eventual possibility of total replacement by automation in some settings. Welders who are willing to work out in the field, where industrial welding machines cannot be deployed, are more likely to enjoy higher paying positions within the trade.