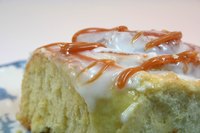 Becoming a pastry chef requires a little more effort than simply having an interest in baking. Candidates wishing to enter the field should have an upper education in culinary arts, as these graduates not only have better baking skills, but are better prepared to administrate a pastry kitchen and are preferred by employers to bakers with no formal education.
High School Graduate
Although an advanced education is not required to work as a pastry chef, employers tend to choose candidates with a more complete education in the field. Pastry chefs who do not have an associate's or bachelor's degree in culinary arts often lack important accounting, managerial and product procurement skills needed in the field. They have fewer job opportunities and often end up working for themselves or for smaller bakeries.
Associate's Degree
Advanced education is fast becoming a requirement for pastry chefs because of the need for quality baked goods in high-end restaurants, hotels, and bake shops. There are many vocational schools that offer one- to two-year programs where students receive an associate's degree in culinary arts. Course work includes food handling, baking and food sanitation methods, but business and accounting principles are also taught to better prepare candidates to manage kitchens. Community colleges also offer two-year degrees, in which students learn basic food handling techniques, baking methods and basic business principles. Candidates that complete this type of program have higher earning potentials and better job opportunities than those who hold no specialized degree.
Bachelor's degrees
In many cases an employer, especially a well-known restaurant or pastry shop, looks for a candidate with a four-year bachelor of science in Baking and Pastry Arts degree. Degrees from well-known culinary universities such as Kendall College in Chicago, Johnson and Wales University in Rhode Island or the French Culinary Institute of New York City hold even more weight. When an employer sees this type of education, he knows that candidate has had the best education available to a pastry chef
Job Training
Although a higher education is looked on favorably, hands-on training is also a big part of this career field. Volunteer and internship programs are important, and continued certifications and workshops keep pastry chefs current in their skills. This is important as process methods in the field continually are changing.