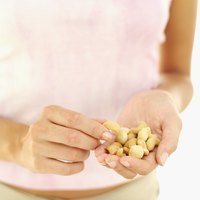 Added sugar, which includes table sugar, high-fructose corn syrup and any other sweetener, accounts for about 16 percent of calories in the American diet, according to Dietary Guidelines for Americans, 2010. Sugar is a source of calories but offers no nutritional benefits. Snacking on sugar-free foods may help up the nutritional quality of your diet and may help you save a few calories.
Veggie-Focused Snacks
Vegetables make a low-calorie and filling snack choice. They're also an excellent source of a number of health-promoting nutrients, including fiber, potassium and vitamins A and C. To vary the nutrients, eat a rainbow of veggies at snack time. A healthy and colorful sugar-free, veggie-focused snack might include a 2-cup serving of sliced cucumbers, red pepper strips, carrot sticks and celery with 2 tablespoons of hummus for 100 calories.
Go Nuts
Nuts make a good sugar-free, heart-healthy snack option. Nuts are high in calories, however, so keep your portion snack-size, which means about 1 to 1.5 ounces. Despite the small portion, nuts are a satiating food, according to a 2014 review article published in Current Opinion in Clinical Nutrition and Metabolic Care. As with your veggies, mix it up to vary your nutrients. You could have either 23 almonds or 12 walnut halves or 49 pistachio nuts, for about 160 calories and a good dose of protein, fiber, healthy fats and vitamin E.
Delicious Dairy
Low-fat dairy foods, such as milk and yogurt, are a good source of protein, calcium, potassium and vitamin D, making them nutrient-rich snack choices. They're even more satiating than nuts, according to the 2014 review article in Current Opinion in Clinical Nutrition and Metabolic Care. Try 1 cup of nonfat plain yogurt topped with 1/2 cup of fresh blueberries, a combo that has 160 calories along with the bone-building nutrients.
Naturally Sweet Fruit
While fruits are a source of sugar, you shouldn't omit them from your snacking repertoire if you're going sugar-free. The sugar in the fruit comes with all the nutrients naturally found in the sweet food, such as vitamins A and C, fiber, folate and potassium. A healthy snack option might include a small apple with 1 ounce of low-fat cheese for 135 calories.