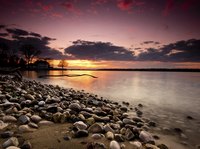 More than a dozen blue-collar communities make up the area known as Downriver. Stretching along the Detroit River south of Motor City, the communities share southeast Michigan's proud industrial past and the natural heritage of the Great Lakes basin. From Trenton to Taylor and Wyandotte, communities carve out individual identities showcased by festivities, venues and recreational opportunities.
Festivals Spotlight the Seasons
Festivals and special events span seasons. The island community of Grosse Ile kicks off summer at the end of May with Islandfest. A weekend family celebration, it includes arts and crafts, a parade along Macomb Street, live music, children's activities and fireworks. Trenton's Scarecrow Festival highlights autumn. The free event includes a scarecrow contest, carnival and battle of the bands. Taylor marks the holiday season with Santa's Magic Forest at Heritage Park. Each weekend from the end of November until December 23, the city celebrates with light displays, animated characters, live entertainment and visits with Santa.
Car Venues Rev Up Recreation
Car fans enjoy dream experiences at FasTrak Exotics. Get behind the wheel of a Lamborghini, Ferrari or Porsche at the Grosse Ile facility. With a professional driver at your side, you can take four laps in one of each of the models. FasTrak's closed courses are located at Grosse Ile Airport and Bosche Proving Grounds in Flat Rock. An in-car video system captures the experience for sharing with friends. Stock-car races are the main event at Flat Rock Speedway. The action takes place on a 1/4-mile oval track defined by a figure-8 course. Flags drop nightly April to October. At the end of June, Cruisin' Downriver classic-car event attracts thousands of car buffs. The one-day cruise celebrates the region's love affair with the automobile, traveling through Lincoln Park, Riverview, Southgate and Wyandotte. Each community presents live music and other events.
Downriver's Outdoor Life
Enjoy a Great Lakes experience at Lake Erie Metropark in Brownstown. The 1,607-acre park spans 3 miles of Lake Erie coast. Pack in a full day of family recreation along miles of trails, at the nature center, wave pool and a children's play area that includes a small rock wall. Facilities also include a boat launch and marina for water play and an 18-hole golf course. Bring binoculars for bird-watching at this designated Important Bird Area. At Grosse Ile, the Detroit River International Wildlife Refuge provides additional birding opportunities. The only International Wildlife Refuge in North America, it is home to 154 species of birds, 51 fish species and 90 plant species. Visitor activities launch from Humbug Marsh, where trails and an observation tower invite nature encounters. The refuge is open to hunting and fishing, and provides exceptional opportunities for nature photography.
Museums Spotlight Colorful Histories
Explore Downriver's past at Lincoln Park Historical Museum. The museum collection is housed in a renovated depression-era post-office building. Artifacts depict the region's French and German heritage and more. Wyandotte Museums interpret middle-class living in the 20th century. Exhibits come to life in the Ford-MacNichol House. The Edwardian-era home is known for being decked out during the holidays with period decor. Rotating exhibits, displays highlighting the city's development and Michigan's prominence on the national stage unveil the area's colorful past.