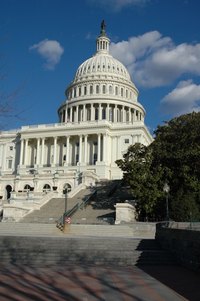 Long-term care insurance plans pay for services and care needed by individuals who are elderly or disabled for designated periods of time. These plans come with many options and benefits that can be added or modified to benefit the insureds. Benefit payments, however, can be considered taxable compensation by the Internal Revenue Service depending on the type of plans.
About LTC Plans
Individuals have many choices when purchasing long-term care insurance plans. They can choose for benefits periods to last for several years or permanently. They can place caps or maximum dollar amounts to pay for services or opt for unlimited benefits. There are comprehensive plans that cover services in home settings or in facilities or facility-use-only policies that pay for services in places such as adult day care centers and nursing homes. Benefit payments are triggered once insureds need help with activities of daily living (ADLs). The six ADLs are eating, bathing, continence, dressing, toileting and transferring. Insureds also have to satisfy waiting periods before receiving benefit payments, which range from 30 days to 90 days (see Resource 1).
Covered Services
LTC plans cover services such as respite and hospice care, occupational and speech therapy, skilled nursing care, and person care such as food preparations and bathing. Services provided in facilities such as assisted living facilities are covered by these plans as well. LTC plans may also pay for the installation of hand rails and other home modifications as well as transportation for insureds to get to their doctor visits. These services and expenses paid for by long-term care insurance plans are not covered by standard health insurance policies or Medicare.
Qualified LTC Plans
Individuals can purchase two types of LTC insurance plans: qualified or non-qualified. Qualified LTC plans have several tax breaks. Insureds receive tax-free benefits and can deduct insurance premiums on the premium payers' tax forms if the amounts exceed 7.5 percent of their adjusted gross income. These plans have restrictions however. Insureds are required to need assistance with two or more ADLs or have cognitive impairments that need substantial supervision. Benefits will not be paid to insureds who have disabilities that last less than 90 days.
Non-Qualified Plans
Non-qualified LTC plans do not provide the same tax breaks. Insurance premiums are not tax deductible, but benefit payments are not taxable compensation. However, these plans are not as restrictive as qualifying coverages. For example, insureds only need help with one or more ADLs and do not need to have substantial supervision for cognitive impairments to trigger benefit payments. Insureds can also receive benefit payments to cover disabilities that last less than 90 days.