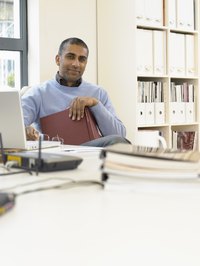 Your nonprofit organization needs software designed not only to perform standard accounting functions, but also to meet the special requirements placed on not-for-profit organizations by governments at all levels. Before purchasing an accounting software package, do your due diligence and make sure it meets your particular needs and is not more than what you need.
Major Packages
Several major accounting software manufacturers offer versions of their accounting software specifically designed for nonprofits or that include features that make them versatile enough for nonprofit use. Sage Accounting and Intuit's QuickBooks, for instance, offer nonprofit-specific software and assistance. Microsoft's Dynamics GP provides a money management package for nonprofits that includes grant management and reporting features. These are just a few of the software packages available (see Resources).
Evaluating Options
Determine the types of activities you need to track with your accounting software. You may need to track grant applications and receipts, fundraisers, auctions, income from subscriptions and membership dues, recurring and individual donations, expenses, and payroll and tax information. Your financial team should be in agreement as to the appropriateness of the package to handle your activities. If your organization is small with simple needs, you may simply need spreadsheet software with budgeting templates. If you have a variety of income and expense types, a more comprehensive commercial accounting software package is probably best for you.
Affordability
Many software companies offer reduced rates for certified 501(c)(3) nonprofit organizations, although there are some limitations. Microsoft also has a software grant program that gives its software to certain qualified nonprofits on a case-by-case basis. Even if you cannot obtain the software from the manufacturer for free or a reduced rate, check with your donors. Someone among your supporters may be willing to purchase the software as a tax-deductible donation for the organization.
Training
Make certain to include reasonable training in the cost of the software. It may be more appropriate to have only one or two people take the formal training that comes with the software, and reserve additional paid training for future contingencies. Those who receive the formal training can then train individual staff members on those elements of the software they're responsible for. Keeping several people trained on the software ensures that you have a skilled money managing team, even if one person must leave the organization.