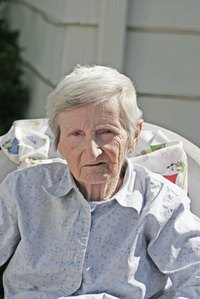 Registered nurses work in a variety of industries, including hospitals, physicians' offices, home health and nursing homes. According to the Bureau of Labor Statistics, 128,420 registered nurses worked in nursing homes, or nursing care facilities, in 2009. This comes to less than 5 percent of the over 2.5 million registered nurses working in the United States. The average pay for RNs in nursing homes was over $59,000 per year at the time of the study.
Average Hourly and Annual Wage for RNs in Nursing Homes
According to the Bureau of Labor Statistics, the average 2009 wage for RNs in nursing homes came to $28.52 per hour. For year-round work at 40 hours per week, this makes an average of $59,320 annually. However, about one-fifth of registered nurses work part-time and many work irregular hours.
Comparison to Average RN Earnings Nationwide
RNs working in nursing homes earned less than the average RN in the 2009 study. The average earnings of all nurses came to $31.99 per hour, or $3.47 more than those working in nursing homes. For full-time work all year, the average nurse earned $66,530, or $7,210 more than nurses working in nursing homes.
Comparison with Hospital Wages
Hospitals employ the largest number of registered nurses of any employer type. In 2009, 1,492,000 RNs were working in hospitals, or over 57 percent of all nurses. They had an average annual income of $67,740, $8,420 more per year on average than RNs working in nursing homes.
Top-Earning RNs
RNs in certain industries and locations had higher average earnings. Among employers with more than 100 nurses, the federal executive branch had the highest earnings of all. Its 62,760 nurses earned an average of $77,830 per year in 2009. The highest-paying state for RNs, California, paid an annual average of $85,080. Nurses in Massachusetts and Hawaii also earned over $80,000 per year on average.
Job Outlook for RNs
The Bureau of Labor Statistics describes the overall outlook for registered nurses as excellent. However, opportunities will vary with the job sector and location. Between 2008 and 2018, the bureau expects 581,000 new jobs for RNs. Hospitals, currently the largest employer, will experience job growth of 17 percent for RNs. Nursing homes will experience even better growth of 25 percent. The growing elderly population of the United States will increase the need for nurses for patients needing long-term care in nursing homes. Between 2008 and 2018, jobs in home healthcare will increase by 33 percent and in physicians' offices by 48 percent.