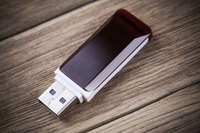 Business assets and business supplies are treated differently for tax purposes. Small, and often inexpensive, pieces of equipment can present a challenge in determining whether they are in one category or the other. Flash drives are often very inexpensive but are still a piece of computer equipment. Several considerations need to be determined whether a flash drive is deductible or depreciable.
Computer Equipment Depreciation Rules
Most computer equipment, including flash and hard drives, are depreciable capital assets. To be a depreciable asset, an item must be used in a business and have a useful life of more than a year. These assets are expensed over a number of years; they cannot simply be expensed in the year of purchase. The main question with flash drives is whether they have a useful life of more than a year. A cheap $20 flash drive may not be expected to last more than a few months, in which case, it would be expensed as a business supply. A more elaborate one may last for several years, in which case it must be set up as an asset and depreciated.
Section 179 Expense Deductions
Section 179 of the tax code allows accelerated write-offs for business equipment and property. Its purpose is to help businesses invest in their companies by giving them tax breaks. If your flash drive qualifies as a depreciable asset, it qualifies for Section 179 treatment. This has the same tax effect as expensing the purchase outright.
How Do I Report Flash Drive on Tax Return?
If your flash drive is not expected to last more than a year, simply include as part of your supplies expense deduction on Schedule C (for unincorporated businesses). If you are claiming a Section 179 deduction, fill out Form 4562 in addition to your Schedule C.
Personal Use Rules
If you use your flash drive for business and personal use, you can only deduct or depreciate the business use portion. For example, if you use it 80 percent for business but allow your son to use it sometimes for school projects, you will take 80 percent of the cost as your cost base. If you use a depreciable asset less than 50 percent for business, you cannot take a Section 179 deduction and would have to set up the business portion and depreciate over time.
Other Considerations
Because of the rapid decline in the proce of even high-capacity flash drives it may not make business sense to depreciate them, but simply to deduct them as business expenses when they're purchased. In addition, note that as durable as they are, flash drive do fail from time to time, and it's prudent to back them up periodically.
Note also that tax laws in the U.S. are under constant scrutiny and are frequently modified. Before you sign or file any returns or make any tax payments, review them with a trusted professional to ensure that you're working with the most up-to-date information and that you've chosen the best strategy.